Veerharinder Singh and Pawanjot Kaur were married on November 1, 2001. Apparently this ill-fated relationship started off on the wrong foot.
Veerharinder had said he was a graduate owning gas stations. He turned out to be class 12 pass and an employee in a factory. Pawanjot was B.Sc medical.
Veerharinder then left for Surrey, abandoning his bride in Punjab.
Ranphool (Pawanjot's father) claimed the man and his family were all good till they gave wrong information to the embassy that had rejected the papers of my daughter to emigrate to Canada.
As if abandoning the bride wasn't enough: Veerharinder demanded 30 lakh (a mere $75,000!) for dowry, and his father was camped out in Punjab, waiting to receive this from Pawanjot's family.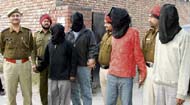 Pawanjot came to Canada on her own and stayed with her grandfather in Edmonton when Veerinder's family rejected her. Then, the plot thickens… Veerharinder tried to teach his father-in-law a lesson for sending Pawanjot to Canada.
Police charges allege that the husband and his cousin hired a group of contract killers for 120,000 rupees (about $3,000) after the father of the bride could not raise the dowry for his daughter.
Luckily the killers were amateurs discussing their plan at a dhaba … where they were overheard and reported to the police.
Veerharinder, how do you face yourself in the mirror?