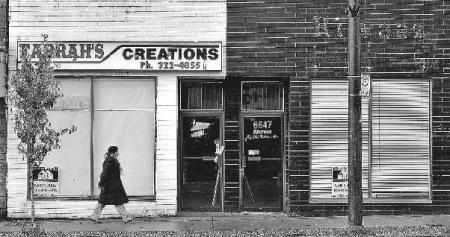 This holiday season I noticed the pinched expressions on people's faces, the emptier stores, the going out of business sales, and the general air of unease and uncertainty as we round out of the holiday season and into a worsening (economically) new year.
Over the past few weeks, the NYT has been covering how the recession has impacted small businesses, which tend to operate under situations that make them more sensitive to the need for liquidity than larger corporations.
Even companies…, whose products and services are in demand, are being ensnared in the deepening recession…

Some 60 to 80 percent of new jobs [in the U.S.] come from small businesses, Mr. Keating said, and more than 50 percent of private sector gross domestic product is created by small business. [link]
The damage, however, is not just localized. As the slowdown in the U.S. economy drags other world economies down, slow times have also impacted small business owners in immigrant communities, including Vancouver's Punjabi Market:
"I don't see much of a future here," said Virani, who is considering closing her shop.She isn't alone. At least 10 storefronts between 48th and 51st avenues are papered over and displaying For Rent signs.
The Sun pins the blame on the general impact of the recession and the rising operation costs (rent, fuel) in metro Vancouver. The Punjabi Market has been one of the oldest community gathering points and merchant areas in western Canada, but population growth in the region has also cut against one centralized shopping locale. The Sun points to shifting demographics as Punjabi populations continue to grow in nearby towns such as Surrey. The shift (and "critical mass" of clients in other towns) has diminished the novelty, affordability, and client base of the old shops:
In the 1990s, "you couldn't go wrong" with a store in the Punjabi Market, said Madan Dhingra, owner of Mona Cloth House. "It didn't matter what you were selling. Everyone would come to shop. It was the only established market in Western Canada." People would come from as far away as Calgary.

But today's changing demographics are challenging Main Street's dominance.
The Vancouver market has begun to reframe their services as higher quality, as well as opening the market to non-Punjabi shoppers in an effort to diversify. In the U.S., a healthy proportion of the Sikh Punjabi community earns its livelihood through a variety of small businesses and small business-like enterprises. While the slowdown has hurt everyone, it has been especially difficult and risky for those operating on narrow margins, regardless of their tax brackets. It will be interesting to see if the overall reduction of wealth and credit in the American and Canadian economies will prompt communities and merchants to reevaluate their interactions, or if it will simply lead to the slow death of a number of community-specific shops.
Previous Coverage: Recession Hits Sikh-Canadians; Church Bankruptcies – Are Gurdwaras Next?