A few weeks ago, Maple Leaf Sikh said that "We often lament the state of our gurdwaras but we should just as often stop and think about how much we have accomplished."  How very true!  How often do we highlight communities where things are working well for the Sikh diaspora?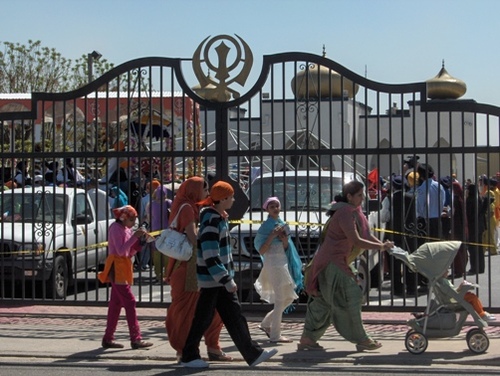 A recent article tells us how a small town in Central California, Livingston, is helping to bridge a gap created by a cultural, linguistic and religious divide between generations.   Recognizing that language is the link to religion for Sikhs, the sangat in Livingston has ensured that children in the area have the opportunity to attend Punjabi classes and learn the language.
There's a lasting link between the 35-character alphabet used to write Punjabi and the Sikh religion. The Sikh scriptures and the Punjabi language of many Sikhs were written in a script known as Gurmukhi. So to be fully initiated into the religion, you must know how to read it… Tripat Grewal, who helps teach Punjabi language classes, said that for many Sikhs the fact that their children couldn't understand what was being said in the temple was at the heart of the effort to create Punjabi-language classes. "The religious part was very important," she said. [link]
When the space at the local Gurdwara became too cramped, the leaders secured classroom space at a local elementary school.  While these efforts aren't the first of its kind, it's always great to hear a community coming together to address a need.  For those of us who are familiar with the small towns scattered across central california — these punjabi classes are vital to bridging the divide between generations.  With large immigrant populations and many living in joint families – being able to communicate effectively with one another is and will continue to be an important part of the diaspora.
Tripat Grewal said earlier efforts failed for several reasons. Many in the Sikh community are working-class folks, and either aren't literate in Punjabi themselves or, since they're recent immigrants, wanted their children to learn English. Kirpal Grewal said the classes in Livingston are part of a larger effort by Sikhs to keep their traditions alive as new generations grow up in the U.S. "This is a movement to revive our culture and language," he said.
It is also a reminder that as we continue to build new gurdwaras (which we will!) – let's ensure that ample space is devoted to classrooms so that punjabi can be taught.  This should be an integral part of the architecture in each and every gurdwara.