As some of us shoot rifles as a recreational activity, while others view them as a defense plan or just admire the way rifles look, it was nice to come across a Punjabian, Avneet Kaur Sidhu, an international rifle shooter, who excels at using them as part of a sport!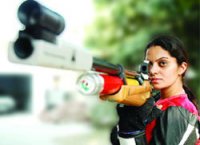 According to the The Tribune, she recently "… won a gold medal in the women's individual 10m Air Rifle event of the Australia Cup Shooting Championship held at Sydney International Shooting Centre (SISC)" in 2006 (yea this news is kinda old, but I thought it was still worth highlighting since it's a Punjabian Sikhni in sports).
Hailing from Bathinda, Avneet has earned a bearth for the Beijing Olympics, representing Team India! Congratulations! Watch out for the eye and steadiness of this Sheerni!
According to her facebook group (all of you can join now: "Avneet Kaur Sidhu"), Avneet is a 2001 alumnus of Dashmesh Girls College, Badal (Muktsar) with an English Literature degree and currently an Assistant Manager at Air India. You go girl … an affection for books and guns, while promoting the hawayee jhahajaz (i.e. airplane)!
Wishing you the best of luck in Beijing Avneet! It's wonderful to see a Punjabian excelling in sports and representing us on the world scene!