How can Punjabi traditions, environmental awareness, and women's space all be nurtured at the same time?  Trinjan.  Two organizations in Punjab recently teamed up to begin this.  The Kheti Virasat Mission (KVM),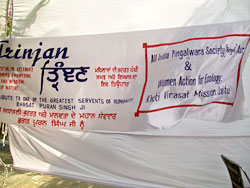 working towards sustainable agriculture, conservation of natural resources, environmental health and eco-sustainable technologies teamed up with Pingalwara, the org started by Bhagat Puran Singh in Amritsar as a refuge to care for those who had nowhere left to go.  [Hat tip: Big B!]
These two groups combined efforts to revive the lost tradition of Trinjan.  KVM created a new initiative- the Women Action for Ecology to encourage women's participation in an agro-ecological revival movement in Punjab.
From pictures on Pingalwara's site, it seems that Pingalwara may have envisioned this first attempt at reviving Trinjan to be more a display of Punjabi traditions- natural foods, arts, and crafts.  However a report from KVM envisions a much more active and central role for women in reviving Trinjan.
Since women are the first and worst victims of the agro-ecological crisis here and elsewhere, women need to work towards the mitigation process, for their own sake and for the sake of the community. Trinjan is an effort to mobilize women to appreciate their own traditional wisdom and role in the preservation and conservation of the environment in Punjab. Platforms for sharing of knowledge and spreading of practice are the main tool for empowerment of women in Trinjan. (emphasis added) [KVM report]
Trinjan is the space where women in Punjab's villages would traditionally gather to spin on charkhas, talk, learn from each other, counsel each other, cook and sometimes even eat together. [KVM] A modern Trinjan would include sharing knowledge and skills to tackle the many environmental problems facing Punjab today.
After the Green Revolution, women in Punjab say these spaces began to disappear.  The high yield seeds that were distributed during the Green Revolution were of a different type of cotton which couldn't be spun on charkhas anymore.  [KVM]  In addition to the disappearance of Trinjan, the Green Revolution brought other changes for women's roles.  With changes in crops, traditional foods (like millet based) stopped being cooked.  Younger women's knowledge about food systems was eroded.  Women stopped saving their own seeds.  [KVM]  With machines doing more work, women's roles became delegated to those inside the home instead of in the fields.
Some experts of Punjabi culture feel that a move towards private spaces also contributed to the end of Trinjan.   As enclosures became more common, doors on individual houses were more often closed and women no longer walked into each other's houses with the same degree of comfort as in the past.  [KVM]
At the same time that women's spaces where knowledge and skills were shared to benefit families and communities disappeared, the environmental crisis connected to agricultural technology like pesticide, began to unfold.  The need to revive spaces for the sharing of knowledge and skills has been recognized. [KVM]
With the help of INSAF, Women Action for Ecology decided to revive Trinjans, to revive agri-diversity and traditional food systems in Punjab even as these could be used to fight the menace of GMOs and chemicals in farming. [KVM]
Though the first Trinjan by KVM and Pingalwara may have been more of a display (as it seems from Pingalwara's pictures), KVM's interpretation and vision is encouraging.  The multifaceted approach to Punjab's issues is much-needed.
There will be challenges in developing new women's spaces and holding on to valuable Punjabi traditions in the face of inevitable modernization and change.  How can new communal spaces for women be developed when doors are now more often closed and families shift towards nuclear models? How can environmental responsibility be encouraged when many families have pressing economic needs to put food on the table and send their children to school? I look forward to seeing what answers the Women Action for Ecology forum develops.