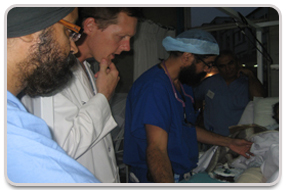 As someone who considers herself honorary Peruvian (it's a long story) – I was especially proud when I heard about Operation Walk – an organization established by Harpal Singh Khanuja and his wife Maria Khanuja.  The non-profit organization is dedicated to providing free knee and hip replacements to underserved people around the world.  The concept behind the organization was to perform complicated surgeries on people in developing countries, "where arthritis progresses to its end stages and reconstructing joints becomes technically challenging."  Often times, it is people who are most at need who cannot afford the surgery.  A news article discusses Operation Walk's recent trip to Lima, Peru where they performed 48 surgeries to replace knee and hip joints.  Here on TLH we like to highlight examples of seva – this is another important example of what it means to do selfless service,
"It was very rewarding to do this work for people and not expecting anything in return," Harpal Singh said. "It's really their gratitude that you cherish the most."
The organization's goal is to replicate the Peru mission to Panjab where the need is also great (some of which can be attributed to the chemical farming of the Green Revolution).
The goal is to learn the ropes and move on to Punjab, Harpal Singh said. "It's done more than cross my mind."  To coordinate a trip to India would require an extra week's stay and extra money for cargo, lodging and food. He was initially ready to go to Punjab this year, but when it came time to select a location last November, the Mumbai bombings scared many of the volunteers. Some of them had not been outside of the state of Maryland before the trip to Peru. Perhaps they needed one more trip under their belt, and wait another year to go to Punjab, Harpal Singh said.

"Our community is very eager to have this done in their own area," he said. "In some respect, a group of sardars or Sikhs doing seva outside Punjab is more of an education."
While the need in Punjab is great, I would agree that doing seva in non-Sikh communities is just as significant.  It's also an opportunity to educate communities about who Sikhs are.  What better way to do that, than to let others experience what's most important in Sikhi? 
"I think that it is a good thing; we need to go and show our turbans in a foreign country," Gurminder Singh added. "I take a moment to tell them who we are… It only benefits us."  Although most people in Peru have not seen a Sikh before, Gurminder Singh said he felt quite at ease there.  "You get strange looks here (in America) from people who don't know who Sikhs are, you can tell," he said. "Over there I did not seem like a stranger. They look beyond your looks and look at you as a person there to help."
 It's always good to remember that with Seva, come blessings…
"The blessings from these patients are incredible," Harpal Singh said. He remembered one of his patients, a 40-year-old woman, whose knees were fused together in both legs. When she sat in a chair, her legs would stick straight out. He replaced one knee with the idea that if the surgery did not work, she would still have one leg in its original condition.

The surgery went well. Three months later, when he and a couple of volunteers went back to check on the patients, he replaced the other knee. She can now walk.

"We feel very blessed and lucky," Harpal Singh said. "Now is the time to pay back for the fortune we have."