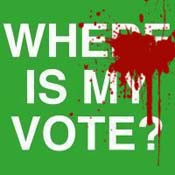 The events following the June elections in Iran continue to reverberate.  The allegations of widespread election fraud led to hundreds of thousands of Iranian youth to take to the streets and asking "Where's My Vote?"
A regime unable to answer its citizenry and an escalating use of repressive tactics has led many to begin questioning the legitimacy of the government.  Born out of a revolution in 1979, a generation has grown up on legitimizing the current regime through understanding of the tyranny of the Shah's.  However, the tactics unleashed in the wake of the elections has shifted the public from asking about votes to calling for the ouster of the Supreme Leader.  Khamenei has none other to blame than himself through his partisanship in siding with Ahmadinejad, rather than standing above the fray.
The recent protests spate of protests saw many killed by Government forces.  New slogans calling Supreme Leader Khamenei the "new Yazid" are stirring in Iran:
The story of Ashura revolves around the succession to the Prophet Muhammad. According to Shia belief the succession should have devolved to the Prophet's son-in-law and cousin, Ali, the first of the Shia Imams. Ali finally assumed the leadership and became the fourth Caliph but after his death the succession should have followed through his family. Unfortunately for them, the leadership was seized by a rival family, the Umayyads. In 680AD one of Ali's sons, Hussein, with a small band of followers, challenged the Umayyads, who were led by the Caliph Yazid. Hussein was defeated and killed. Ever since Hussein has been hailed as the Lord of Martyrs, the champion of the oppressed. His sacrifice is lamented every year on Ashura.[link]
In Punjab, groups are calling for Badal's ouster.  Hoping to capitalize on the community anger over the deaths in Ludhiana, groups are forming a third front. The news is hardly surprising, but it seems to this writer that it is far premature.  The cries of Badal as the "new Massa Ranghar" are still far from the political scene.  So long as the Panthic groups are still on the defensive in the propaganda war, Badal and his patronage circles will continue to reign supreme.