Through various posts on this blog, we have discussed the idea of activism (and even lacktivism) within the Sikh community. Recently I have been thinking about what activism meant to our parents' and grandparents' generation and in what form they expressed their personal and political thoughts. Twenty four years later, as we remember the events of 1984, we are reminded of how much these events raised Sikh consciousness. It is also a historic event in another sense. The response to the events of 1984 allowed for our parents and grandparents to stand in solidarity with other Sikhs and in doing so, mark their place in Sikh history on both a personal and political sense.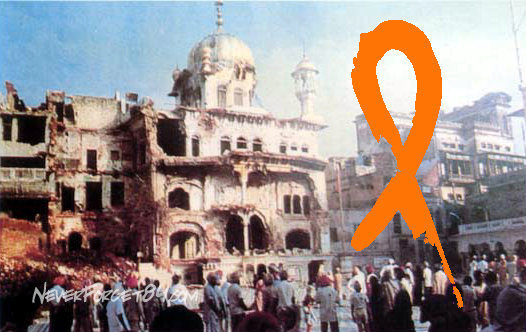 During those days and weeks following the invasion of the Darbar Sahib, hundreds and thousands of Sikhs took part in protests. I remember hearing about these stories from my Dad who ardently took part in these protests in London and Liverpool. However, what was more striking to me, was the role my Mum Mom played in these protests. I remember visiting a museum whilst on a school trip (a few years after 1984) and seeing pictures of the protests on display. I was caught off-guard as I saw a picture of my mother with her fist in the air protesting alongside other Sikh men and women. That image has stayed with me – essentially the activism that has always existed and remains to exist within our community. I wasn't able to find much press about these protests, but did come across this clip.
Please share your thoughts/memories.