The police have apprehended two suspects and are charging them with the killing of Navtej Singh. The police are still searching for additional suspects and accomplices.
————————————————————
Many of our friends and family own small businesses. Whether gas stations or convenience stores, the hours are long and the risks are high. Few of us would probably not be aware of some friends or family that have not had some circumstance occur while working.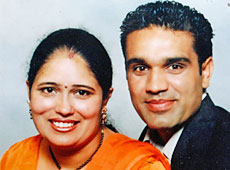 In Auckland, the New Zealand Sikh community suffered a tragedy with the killing of 30 year old, Navtej Singh, a father of three children all under 5 years of age.
Almost as disturbing as the cold-blooded murderers, who stole fifteen bottles of beer and a few dollars, was a callous customer that stole a box of alcopops as the victim lay in his blood.
The 12,000 member Sikh community in New Zealand is an established community with five gurdwaras and are asking questions. There is some division as to whether these crimes have a racial motivation or are crimes of opportunity:
"What is happening in South Auckland?" asked Sandeep Verma, who was with Navtej Singh when he was shot, and when he later died in hospital.

"All the people from the Indian community, whether they are Fiji Indians, Indians, Punjabis, Gujaratis; only those people are the main target.

"What are the police doing for the security of our people?" [link]
Another disturbing element of this crime was the police's hindrance of the ambulance from picking up Navtej Singh. Navtej Singh's friend narrates that Navtej was alive and well, he had even used the bathroom by himself, when the ambulance dispatcher told them they were one minute away. Then the police seemed to bar the ambulance from reaching Navtej Singh for almost 30-45 minutes, during which time he passed away.
While this tragedy occurred thousands of miles away, I cannot help but feel connected. Unfortunately this will not be the last time, we hear of such cases. Although I have mixed feelings on the subject, if the police cannot protect, then I am not sure why they are dissuading the Punjabi shopkeepers from defending themselves.
One last note, the police justify the delay as being part of 'proper procedure,' I always find such dereliction of responsibility to be cowardly. I always feel contempt for those that hide behind 'procedure' and 'bureaucracy,' especially when another's life is at sake.
There are some videos of Navtej Singh's friend's testimony here and the news report here and here.