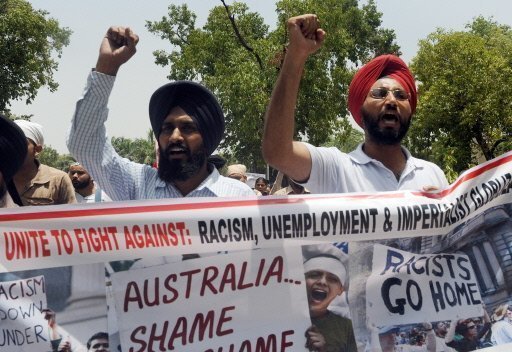 A Sikh exchange student from Punjab became the 20th victim, this year, of a hate crime in Australia. His attackers attempted to rip off his turban and forcibly cut his hair. According to the AFP, this is the latest in a wave of attacks against desis in Australia.
These attacks have been the subject of public protest, both among university students in Australia, and among others in India. Australia has been under pressure to address these hate crimes, and has been deploying police while claiming that these attacks are uncommon. The sheer number, however, indicate a wider tension between victims of racial hatred and violence, and their attackers. The last attack on a desi student, for example, has left the victim comatose. While the Australian government denies that these are racist attacks, the particular nature of these incidents seem to contradict this position. Does this spate of violence, then, expose the seemier underbelly of Australian race relations?
Australia currently hosts roughly 95,000 desi exchange students, a result of active marketing for university exchange programs. The blowback, it seems, has been in a string of nativist and race-targeting attacks.
As particularly visible community-members, Sikhs are familiar with the fallout of racist violence. What is interesting to me is how this moment, and the unrest and protests against these disgusting acts of hate, are challenging Australia's identity. Perhaps this is uncharitable to say, but Oz is not known for being a particularly inclusive or friendly country for non-whites, despite exposure to, and the presence of, aboriginal communities and communities of color over the past decades.
Instead of explicitly confronting these issues, however, it has attempted to police its way into a solution without acknowledging any potential root-causes that may be racially or identity driven. This dialectic makes me wonder if Australia is poised to undergo a transformation in its policies akin to the UK's anti-racist breakthroughs of the 1970s and 80s.
Despite maintaining the legal veneer of inclusion, Australia has not really had a critical mass of any one community of color to force it to be inclusive at the community-level. The sudden arrival of tens of thousands of desi students, coupled with the government's ham-handed attempts to keep the peace, have created a situation in which the State will have to acknowledge that it simply has not done enough to achieve inclusion on the ground. Instead, it has created an untenable situation that allows hatred to forment from nativists toward newcomers.
This makes me wonder, then, whether Australia will chose to address its issues by examining som eof the root concerns around endemic racism, or if it will pass the buck in the name of "personal responsibility" of its citizens. Either way, it has a lot of explaining to do as another young man is rushed to the hospital.