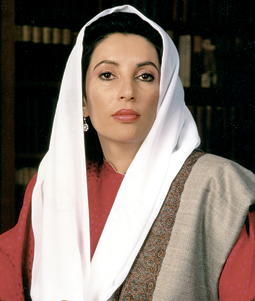 The news is ablaze; the blogs are on fire; Rawalpindi and Sind are burning. Former Pakistani Prime Minister, Benazir Bhutto, was assassinated today at a political rally in Rawalpindi, Pakistan.
While few Sikhs will shed any tears for Bhutto as she was personally responsible for the deaths of many Sikhs during the 1980s, the current crisis of the neighboring state cannot be ignored.
The ramifications for the global 'war on terror' are yet unknown. In Pakistani circles, most believed that a Washington-brokered power-sharing agreement had been reached between General Musharraf and Bhutto. Despite the General's declaration of 'martial law,' Bhutto's criticisms had been muted. However her outcry became shriller as opposition within her political party called for her stronger support towards its beleaguered party members, who were coming under arrest and greater security scrutiny. In recent times the relationship (at least in the media) has soured.
The ramifications for Pakistani democracy may be severe. Many are speculating that Musharraf will use this event to postpone (perhaps indefinitely) the upcoming elections and further trample on any that oppose him.
2007 has not bided well for Musharraf as he has faced two huge crises: one urban and another rural. The urban crisis was kicked off due to his dismissal of the Supreme Court Chief Justice. Last June over 50,000 people, mainly lawyers, came out to protest the action, despite the military's ban on such rallies. The rural crisis was due to Pushtu and Baluch members of a Neo-Deobandi group took refute in Islamabad's Red Mosque seminary. A face-off resulted in a bloody attack leaving many dead. While the Neo-Deobandi group's popularity may have been weak, many Pakistanis were horrified to see a military invasion of a mosque.
Initial reports seem to blame the assassination on 'Islamist' extremists. Others believe that some military or intelligence officials must have been complicit and either aided or abetted the assassination attempt. At this early juncture it would be presumptuous to begin pointing figures.
For the purpose of this blog, what are your reactions? Political dynasties in national-level South Asian politics have often found themselves creating enemies that lead to a premature death (e.g. Gandhi-Nehru family with Indira and Rajiv as well as Benazir Bhutto and her father Zulfiqar Bhutto). In India, still the Gandhi-Nehru family reigns supreme.
Moving closer to our area, what is the view from East Panjab and its diaspora? An unstable Pakistan and increased lawlessness usually increases smuggling over the borders of Panjab. Anecdotal contacts have mentioned that the delegitimization of violence in the name of Islam, amongst some groups of urban elite, has led some to look for other forms of identity, especially regional Panjabi nationalism. What are some other possible outcomes for East Panjab and the world beyond?