A Review of Mandeep Sethi's Poor Peoples Planet, released January 2011.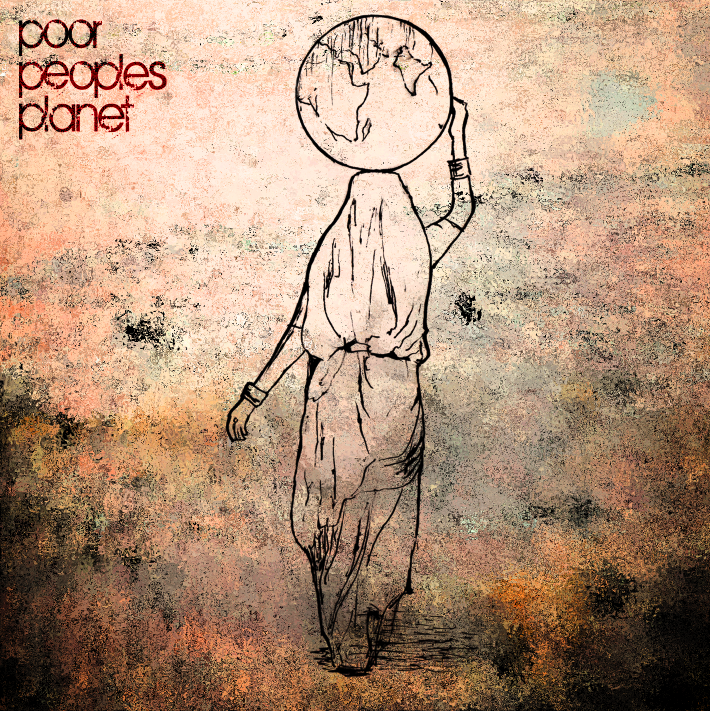 With an unmistakably laid-back, West Coast hip hop sound, 22-year old Sikh rapper Mandeep Sethi brings us the dynamic and often incendiary (while maintaining the mellow Bay area vibes) Poor Peoples Planet. Inspired by the gypsy hip hop teachings of Xitanos Matematikos and the history of gypsies in Punjab, Sethi, a San Francisco-based artist, flows over meditative and at times haunting melodies and samples not typical of a hip hop record.
Embodying the Khalsa spirit, the album (Sethi's third) begins with a twist on a jakara, with the track, "JahKaRa."  The jakara was originally a revolutionary call and response battle cry—a call to arms in a sense—that is of course used today to end Ardas and in times when we need some extra Guru-inspired enthusiasm and courage.  This album's "JahKaRa" begins in Spanish and flows into Sethi welcoming the listener to "the pueblo" before a series of Punjabi jakaras propels us into the experience of Poor Peoples Planet.
[Moving Swiftly::][GuerillaTactics][POORPEOPLESPLANET by Mandeep Sethi

"Guerrilla Tactics (Moving Swiftly)," the album's first single (which you can listen to above), begins with a sample of South Indian spiritual thinker and revolutionary Jiddu Krishnamurthi (whose speeches are sampled throughout the album):
"The outward expression of freedom seems to be extraordinarily important, especially in countries where there is tyranny, dictatorship…"
Probably the most anthemic song on the album, "Guerilla Tactics" includes references to the catastrophic effects of big agrobusiness's "Green Revolution" in Punjab, comparing it to the destruction caused by last year's earthquake in Haiti, while clearly defining US empire as the enemy:
you f@!%ing my people's farmland
like seismic shock in haiti with genetic seeds in hand
death to uncle sam and all those related
we movin through the matrix faster than you could imagine
Track 8, "Ragam Virtuoso," goes deeper into Sethi's Punjabi roots and the struggle of Sikhs:
singh is the lion who wasn't tamed
i came from the jungles of punjab where they reign
come a come again
pain can expose the poetic prose,
at times forced to let it go for less than an O
sethi is a clan from bihar
xitanos matematikos
yo no hablar
and he's ready call him SETI call him SET
ancient sun wizard of egypt resurrected from death
He continues:
my people need land we call it khalistan
you must've forgot half of punjab became pakistan
simple methodology nazi psychology
to program and plague ya optic with toxic commodities
punjabi paparazzi papa don done
i represent the dirtiest part of india's slums
tongue will touch the ground just to pay my mother's dues
and you thought you knew
Sethi's lyrically explores his own Punjabi and Sikh identity, making connections to the very real contemporary struggles in the "homeland."
But his lyrics go much beyond issues in Punjab.  In "Street Poetry," Sethi rhymes over a mid-tempo track with a couple of acoustic guitars grooving hypnotically:
in arizona they taxin on immigration
a simple economic move of capitalist hatred
on stolen land i piss on your rental lease
prophets puttin potion on paper effortlessly
can it be the end of me and you
or could it be the reconstruction of the two
Mandeep Sethi's Poor Peoples Planet takes us on a wandering journey to better understand oppressed people's struggles and our desires for freedom.
"We are a people that have been forced out of our land, forced away from our culture, and forced away from our language," says Sethi.  "By nature we are gypsies wandering these plains trying to reconnect with our culture and reclaim what was once ours."
Musically, the backdrops (produced by X9 of Xitanos Matematikos) for Mandeep Sethi's hard-hitting lyrics are interesting and at times esoteric.  This is not the kind of hip hop album you put on at a dance party.   But what Sethi doesn't deliver in party vibe (probably by choice), he definitely delivers in conceptual coherence and freedom-fighting fervor.
And on that note… Bole So Nihaal! Sat Sri Akaal!
Poor People's Planet is available on iTunes and at www.mandeepsethi.bandcamp.com.