The Center for Asian American Media (CAAM) is a group working to present stories that convey the "richness and diversity of Asian American experiences" to the broadcast audience.  They do this by funding, producing, distributing and exhibiting works in film, television and digital media.  One example is this video directed for Mandeep Sethi, a bay area MC.  As he says, Where do we go from here, I thought my people would be proud of their heritage and instead they want to bury it.

Also presented by the Center, is the upcoming 27th Asian American Film Festival in San Francisco.  For those of you in the area, here are some of the films you might want to catch.
Andheri: a powerful and moving depiction of a day in the life of Anita, a housemaid trapped by her circumstances (class, vocation, gender and poverty) who dreams of escaping into the teeming city of Mumbai.
Dida Reema Anjana: a story of three generations of Indian women who share a desire to be understood on their own terms, all while holding close the bond that ties them together.
The Forgotten Woman: the movie begins in the city of widows, the Indian holy city of Vrindavan, with striking images of widows living in poverty. An older woman tells us, I was gifted to my husband when I was 5. He died and I became a widow. One by one my family died…I'm still here…there's nobody left to light the lamp. An activist asks, "Why is it that widows continue to come to Vrindavan despite the empowerment, the emancipation of woman?"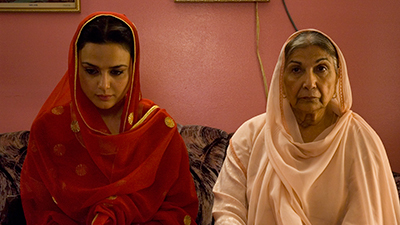 Heaven On Earth: Deepa Mehta's eighth feature bursts open with a kaleidoscope of colors and laughter as the lovely Chand (Preity Zinta) is feted before leaving Punjab to be married in Toronto. When she steps off the plane, however, the world which meets her-cold, gray and distanced-is nothing that she imagined, and one that will threaten to tear her apart just as it sparks her imagination.
The Mosque in Morgantown: With its red-and-gold fall colors and ducks swimming in the river, Morgantown seems an unlikely battleground for the soul of Islam in America. But that's what happens when journalist Asra Nomani walks up to the door of a nondescript mosque in the West Virginia university town. Her demand that women be allowed to pray with the men, instead of being relegated to the backroom, ignites a national controversy.
Ocean of Pearls: When the young Sikh doctor Dr. Amrit Singh is offered a chance to work at a state-of-the-art transport center in Denver, he knows he cannot refuse this opportunity. But, when it becomes clear he is being racially targeted and held back from advancing because of the turban that he wears, Amrit is forced to decide between his culture and career. Deciding to cut his hair and remove his turban, Amrit must soon confront and reexamine the religious and cultural values he has turned his back on.
Project Kashmir: The film follows two friends as the breathtaking beauty of Kashmir gives way to constant reminders of conflict: paramilitary troops sporting AK-47s, trucks gutted by roadside bombs and abandoned homes crumbling into the earth. Geeta and Senain talk with villagers, journalists and human rights activists (though an informant warns them that double-speak is a way of life as well as a survival tactic). Unsure of whom to trust and what to believe, they find themselves on opposite sides of the divide, their bonds of friendship tested in a realm where one's identity is questioned at every turn.
Tala: A bittersweet coming-of-age story about Maya, a daughter of a Bengali immigrant to Australia, who confronts a clash of conscience and loyalties when she discovers her mother in an unforeseen situation.
 You can view all these descriptions and more here.