Posted by Brooklynwala in
Humor
,
Media
on 10 7th, 2010 |
18 responses
I always get nervous in October because, although I love Halloween and all the imagination and candy involved in its celebration, it scares me a little bit. But not because of all too realistic vampire costumes or haunted houses.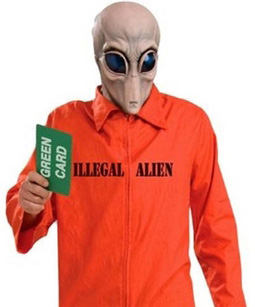 This is what really scares me:
Every year, at least one person comments on my supposed "costume" when I'm not dressed up. Is wearing a turban in New York City still so foreign to people that it looks like a Halloween costume? Or does the holiday gives people an extra excuse to flaunt their racism? Two years ago, I was at a party (not dressed up) the week before Halloween, and a guy came up to me and asked me where my flying carpet was. For real. One of the first times I remember this sort of thing happening was an October afternoon when I was 13 or 14, hanging out at the mall in the suburbs of Phoenix, AZ with a good (Sikh) friend. An adult stranger said to us, laughing, "Nice condom head costumes guys!"
Now, on to the actual costumes people wear (and that stores often sell) with intention. Last year's most notorious was the Illegal Alien costume (pictured here), sold at chains such as Toys R Us, Walgreen's, Target, and more. After an uproar from immigrant rights groups, many stores pulled the costume off the shelves late in the season. But fear not, you can still get some laughs, as the product's description states, this year as it is still available online and at K-Mart.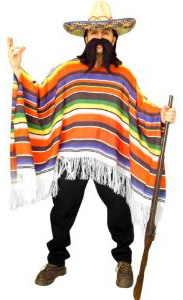 And of course, there are always the good old cultural appropriation costumes. The geisha (including the "Geisha Asian Lady Wig"), the Bollywood dancer, the (American) Indian chief, the white guy wearing an Afro (aka the Pimp costume), the Mexican in a big sombrero and fake mustache, and of course the fortune teller in a turban. The list goes on and on.
It was encouraging last year to see the Top 10 Reasons Not to Wear a Culturally Appropriating Halloween Costume circulating a bunch on email and facebook, and I hope the critical dialogue continues this year.
Why is okay for a marginalized community's history, religion, traditional dress, or skin color to be a costume? Is Halloween just another excuse to make a mockery of communities of color and immigrants? Maybe it's the same phenomenon that propels so many comedians to resort to cheap laughs based on sexist, homophobic, and xenophobic stereotypes. But just as comedians can use humor as a tool to encourage critical thinking and challenge racism (such as fellow desi Brooklnite Hari Kondabolu), a Halloween costume can also be funny without being offensive.
I'm hopeful that we can collectively bring the right kind of scary to Halloween this year, rather than continue on this path of appropriation and dehumanization (and thinking my turban is a costume). But sadly, and scarily, the madness has already begun this year.