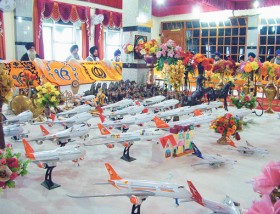 Stuck in Punjab? Want to go abroad? Just buy an airplane.
Not a real one of course, that would be silly. A toy plane will do. Buy one, donate it to a gurdwara and wait. All your vilaiti dreams will soon come true. If you think I'm pulling your leg, just ask the people at Tihan gurdwara near Jalandhar. They'll tell you it works.
In the realm of "truth stranger than fiction", here's an absurd story that simultaneously highlights how desperate people are to move abroad and how fantastical they imagine living in the West to be.
Who are the smartest guys in this whole tragi-comedy? The guys who've set-up shop outside the gurdwara to sell, yep, toy airplanes.
Plane offerings at Punjab shrine lend wings to rural dreams
Offerings of toy planes cover the floor of Sikh shrine Tilhan Gurudwara after word spread that such an offering helped a woman obtain a British visa for her son.

New Delhi: The desire to leave India's rural poverty and flee to a better life abroad has always been powerful in Punjab state in northern India, but it has taken an unusual form with Sikhs offering toy planes in Sikh temples (gurudwaras) to help them achieve their dream.

Most worshippers (Sikhs are a majority in the state) enter a gurudwara by taking off their shoes, bowing before the Sikh holy book, and making an offering of food or money which is placed in front of the book.

But when word went round that the prayers of a woman, who had offered a toy plane at Tilhan gurudwara near Jalandhar were answered and was granted a visa to go to Britain, a new mania gripped people in the area.

The gurudwara's floor is covered by toy planes of varying sizes.

Gurdev Singh Atwal's son, a young unemployed man with little land, had been trying to obtain a visa for the UK for a long time, with no success. He believes his plane offering help him succeed in his quest for a visa.

"I am sure there was a connection. He had been trying for years but his visa came through just weeks after my offering. When I told my relatives, they too came with planes to make the same offering," said Atwal.

The gurudwara now looks like a toy shop, the white sheet on the floor covered with planes.

"My daughter married a Canadian, who sponsored her to join him but her application was rejected. They said the marriage wasn't genuine. We offered the plane before we appealed against the decision and we won. She's in Vancouver now," said Sarabjit Kaur Bains, a resident of a nearby village. All poor Punjabis yearn to go abroad, a desire made even stronger by the fact that virtually every family has a relative based abroad.

Britain, Canada, America, the Middle East and Australia are like mythical promised lands for the people of the state.

Families sell what little land or gold jewellery they possess to pay vast sums of money to immigration racketeers who promise to send them abroad, legally or illegally. Having fleeced them, they disappear or begin giving excuses.

Seeing a new business opportunity, toy shops selling planes have sprung up in the area. Gurudwara manager Balbir Singh says that he disapproves the new practice as "superstitious" but there is no stopping the people.

"They are so unhappy and desperate to go overseas that they will try anything. It's an obsession here, like a mental illness. They are so anxious, we don't stop them," he said.

Others are less charitable. Jullundur textiles exporter Tejpal Singh Hothi, laughed at the offerings as "idiotic". If the practice was to be taken to its logical conclusion, he says, the ramifications would be highly amusing. Link