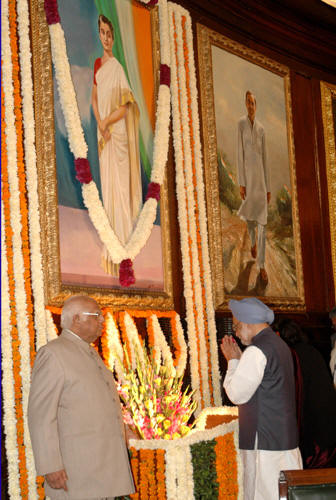 I remember that night…election night, watching on TV students rejoicing in the streets outside of Howard University (a local Historically Black University).  I'm not sure how much of it was about Obama's policy, or just the "historic" nature of the event, but it was all summed up to me as an African-American student holding back his tears said to a reporter, "I'm just so happy to have one of our guys in power."  It was a common sentiment, but this statement stuck in my head for several days.  What did he mean by this?  What was his expectation of President Obama over the next 4 years?  Did he think just because a black man is in office, all of a sudden the American experience will now change for black people?  That the wrongs of their history will now become right?  That discriminatory laws and policies toward black people will all of a sudden be overturned?  If that is what he meant, then I understand the celebration…but I would celebrate with caution.
 
Five years ago, many Sikhs were celebrating in the streets as well.  Finally, one of "our guys" had become Prime Minister.  Manmohan Singh was elected selected as the 17th Prime Minister of India, by Sonia Gandhi herself.  Sikhs all over the world rejoiced.  Even many of the Sikh political prisoners in jail were celebrating with this victory, believing their release was now imminent. 
Even some of my more progressive and panthic-minded friends got caught up in "Manmohan Singh Fever" and encouraged me to give him the benefit of the doubt.  After all, how could we judge him?  Who knows what he may do for us?
I, however, remained skeptical. 

 How could I ever trust any PM from the Congress party – Sikh or Not?  This party had so much Sikh blood on its hands from 1984.  And more importantly, how could Manmohan Singh trust the Congress Party? 
 
After 1984, many Sikh soldiers deserted their army positions, prominent Sikhs returned medals of honor and even denounced their country for its role in 1984, but Manmohan Singh had no problem. He was perfectly comfortable working for the same family that ordered the Darbar Sahib attack and anti-Sikh pogroms. 
 
In August 2005 came Manmohan Singh's famous "apology speech" for 1984.  I was bothered by his refusal to term the November tragedy as "pogroms."  He used the word "riots" implying spontaneity and he dismissed the depth of the atrocities by referring to the massacres as a "human tragedy," "this whole mass tragedy," and "all those ghastly happenings."  Where was the apology?  It was the kind of apology you give to a friend when their family member passes away.  There is a big difference between offering an apology out of condolence versus an apology of responsibility.  If you read further, you see him refer to the "love and affection that Indira Gandhi bestowed on the Sikhs."  And he makes very clear in this so-called apology, "there is absolutely no evidence that Shri Rajiv Gandhi or any other high ranking Congress (I) leaders had suggested or organised attacks on the Sikhs." 
What was more shocking than the apology itself was that many Sikhs took solace in it.  They actually felt some sense of "closure" with this speech!  Clearly, Manmohan Singh knows nothing of Sikh history.   If he did, he would know that Sikhs don't accept apologies, we accept justice…nothing less. 
Nowhere in his speech did he outline how the crimes of 1984 will be investigated beyond vague committees and inquiries, nor did he mention what type of redress, rehabilitation, restitution, and reparations will be made to survivors.  At the end of the day, 25 years later (5 of which under Manmohan Singh's leadership) there has been no policy, law, or even precedent set that could prevent a "1984" from happening all over again tomorrow…to Sikhs or any other religious or ethnic minority.
 
Many feel that we should hot hold him responsible for Sikh grievances – after all, he was just a Finance Minister for most of his career with the Congress Party.  What does he have to do with Human Rights, 1984, or justice for Sikhs?  That may be the case, but the Congress Party did feel compelled to send their Finance Minister to the 50th session of the UN Human Rights Commission in February 1994, where Manmohan Singh downplayed the widespread human rights abuses in India by referring to them as "aberrations" that had occurred to confront terrorism.  Less than a year later, Jaswant Singh Khalra would file a writ petition in the Punjab and Haryana High Court to investigate their discovery of mass illegal cremations in three crematoria in Amritsar district.
 
In my arguments with friends, family, and good-natured Sikhs about Manmohan Singh – they are willing to sweep all this under the rug for one simple reason – "Having a Sikh head of State will be good for us…people will know who Sikhs are."  But I wonder…has it really made a difference?
 
Did it stop the attackers of Seattle Taxi Driver, Sukhvir Singh, who was punched, choked, bitten, and had locks of hair pulled from his head by a racist passenger as he escaped for his life?  Did it help Jagmohan Singh, a Queens High School student who was punched in the face, suffering an orbital fracture, and other students getting their hair forcibly cut in the past year?  Did Manmohan Singh's public profile prevent the Tagore family from getting harassed in their own home by the Harris County Police?   Or prevent the legendary Raagi Jatha Bhai Gulbah Singh & Bhai Devinder Singh from getting kicked off a US Airways fight?
Guess how many times I've been asked if I'm related to Manmohan Singh – zero!
Guess how many times I've been asked if I'm related to Vijay Singh  (the Fijian pro golfer who is not a recognizable Sikh) – at least 50!
 
Even if we forget the bullying, racist attacks, and Kirpan issues – are you telling me a Sikh head of State (representing a population over 1 billion) can't seem to influence the blatantly racist Turban ban in France?  Whatever happened to Sarkozy "looking in to this issue" after meeting with Manmohan Singh?  Nothing!  And to add yet another insult –  Manmohan Singh could not even influence his own party to keep architects  of the anti-Sikh pogroms, Jagdish Tytler and Sajjan Kumar from the Congress ticket for the upcoming elections, despite the affadavits naming them for inciting mob violence during the 1984 pogroms and their specific mention in the Nanavati report.  Instead, it took mass protests outside of the courtrooms in Delhi, railway protests in Punjab, and Jarnail's Singh flying shoe to put that to a stop.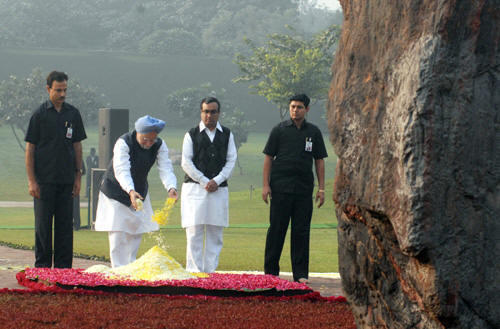 Where are all those Sikhs who felt Manmohan Singh's "conscience" would lead him to address past wrongs toward Sikhs?  Where are all the Sikhs who paraded in the streets who told me to just "wait and see?"  What happened to this "Great Sikh Hope" that Sikhs were so excited about?  I thought he was one of our guys?  Truth is, he's not one of our guys…or at least…not one of mine!
 
Because this November 1st, while millions of Sikhs gather to remember the thousands of victims of the anti-Sikh pogroms…and fold their hands before the Guru , Manmohan Singh will also be standing with folded hands, paying floral tributes to Indira Gandhi.