Two great events are happening this Saturday: in San Francisco- "Women in 1984"; in New York- Lahir.
If you're anywhere near either of these 2 cities, you better be there, or you'll regret missing out!
Women in 1984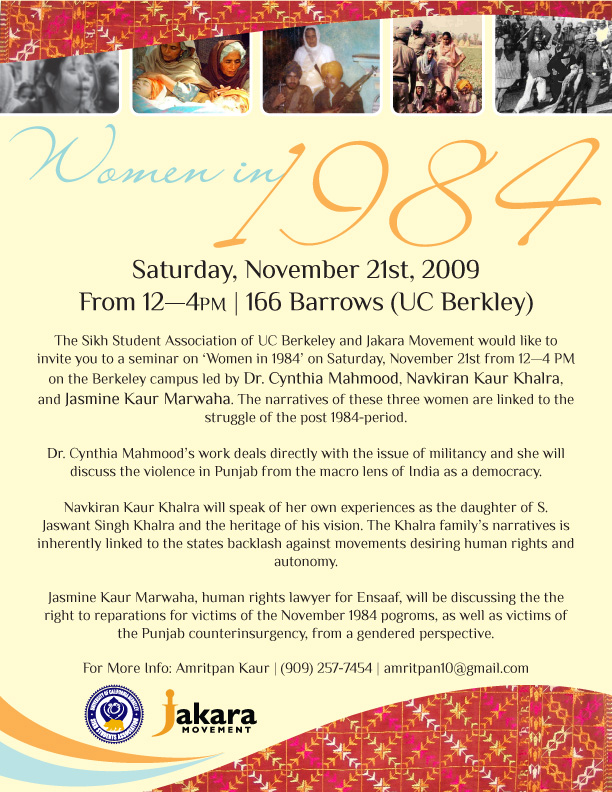 Dr. Cynthia Mahmood's work deals directly with the issue of militancy and she will discuss the violence in Punjab from the macro lens of India as a democracy.

Navkiran Kaur Khalra will speak of her own experiences as the daughter of S. Jaswant Singh Khalra and the heritage of his vision. The Khalra family's narratives is inherently linked to the states backlash against movements desiring human rights and autonomy.

Jasmine Kaur Marwaha, human rights lawyer for Ensaaf, will be discussing the the right to reparations for victims of the November 1984 pogroms, as well as victims of the Punjab counterinsurgency, from a gendered perspective.
Saturday, November 21st, 2009 | 12—4pm | 166 Barrows Hall (UC Berkley)
Lahir
The Sikh youth of the New York tri-state area would like to invite you to Lahir NY: Move the Movement 2009.  The purpose of Lahir 2009 is to commemorate the Sikh Holocaust of 1984 and the violations of human rights that follow. We aim to inspire, educate, and awaken the masses through our community's talent-encouraging Sikh artists to express themselves through music, art, poetry and other non-conventional ways. We hope to move the movement through the solidarity of our youth and the support of our people. Lahir is a free event and is open to everyone.

*** We will be collecting CANS OF FOOD at the event to donate to local soup kitchens, please bring as many as you can and support the cause***
Sat., Nov. 21, 2009, 7-11pm | NJIT Campus Center – Ballroom (2nd Floor) | 150 Bleeker St., Newark, NJ