Guest Blogged by Amritpan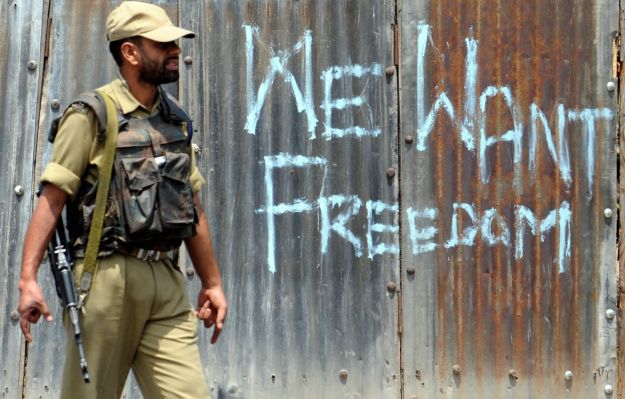 Earlier this week I received an email letter from Kashmir.  This was not the first such letter from Kashmir, nor I fear, will it be the last.  I've read this letter once, twice, again and again and still cannot begin to explain the helplessness, anger, and despair that I feel each time.  Helplessness for the lives of my people lost.  Anger for the status quo of violence and periods of strained silence that soon erupt into violence and for this brutal cycle.  And despair for seemingly no end in sight, the lack of a process that could bring peace to my homeland.
Below I share this letter with you.  Some of it was also published here.
Dear friends and family,
I hope this email reaches you in the best of health and happiness. I'm writing to you from Kashmir, where I've been for the past three weeks.  I wanted to write this email to let you know about the deteriorating situation here, as I'm frustrated with the lack of coverage or misrepresentation in the international media.  Sorry for the length and scattered-ness of this email, but I do hope you read it entirely and spread word about the situation.
To give you a bit of a background, on June 11th, the Indian occupying forces (referred also as the army in this email) killed a young 17-year-old boy, named Tufail, who was walking home amidst a routine protest in downtown Kashmir. Protests are a regular occurrence in Kashmir—usually resulting from human rights abuses committed by the Indian occupying forces. The people call for freedom and an end to the Indian occupation in Kashmir. Tufail was not part of the protest, but his life was cut short by a rubber bullet that hit him in the head. During a protest in the days following his brutal murder, another young Kashmiri man, named Rafiq was injured, and succumbed to his injuries a few days later in the hospital. At his funeral a day later, his cousin, Javed, was also shot and killed by the forces.  The cycle of violence has continued—at the funerals or ensuing protests for the diseased, the occupying forces have killed over 15 youth and critically injured or arrested hundreds. This past Monday, a 17-year-old boy named Muzaffar disappeared after troops chased him and a group of young boys throwing stones. His body was found in a drain the next day and he was allegedly beaten to death. At his funeral, another 16-year old was killed and a stray bullet struck a woman who was standing by her window. She was killed as well. During all of these days, there was a hartaal in all of Kashmir. A hartaal is a strike called by the mainstream parties (they are referred to as the "separatist" parties, but I do not believe that term is accurate since Kashmir never belonged to India and thus the use of the term separatist is false).  Kashmiris shut down their businesses, no one goes to work. Schools, banks, government buildings, transportation etc are completely shut down.  There is some traffic that moves in more residential areas, but in many areas young boys throw stones at passing vehicles for disobeying the call for hartaal. So most people generally tend not to move around. During the hartaal days, protests have erupted throughout the valley and are violently quelled by the Indian army and local police. However, in the past three days, the situation has gotten so bad that the government has imposed a curfew—which means that no one is allowed to move outside. It is a way for them to stop all movement, including the protests, but many areas have defied the curfew and protests still ensue. You can only imagine what happens to the people who need to get to hospitals—I read yesterday that the Indian forces refused to allow a sick Kashmiri woman to get to a hospital during the curfew, and she died.
The cycle of violence is maddening, and there seems to be no end to it. The Indian and local puppet governments blame the violence on the youth and their "stone-throwing", but even with that in mind, one can hardly rationalize their policy of firing freely and indiscriminately into unarmed crowds (they seem to hold stones to the same level as AK-47s and thus consider these crowds 'armed') and targeting to kill. The local police have absolutely no training on how to control crowds. To give you a comparison of how the Indians deal with protests in parts of India—in the violent BJP protests a few days ago in Delhi—the authorities shot water balloons into the crowds.
Even as I write, I can hear the bullets from a distance—whether they are from the tear gas that is dispersed into the crowds or actual bullets, I can't tell anymore.  I keep hear army convoys driving through the city—I've counted atleast 15 in the past half an hour alone. Where they are going, and what madness they will unleash, God only knows.
Last night I heard a protest around midnight—shouts of azaadi (freedom), loud announcements from the loudspeakers of the nearby mosques, and then all of a sudden, the sudden sounds of the Indian army trucks as they moved towards the direction of the protest. I pray that nothing happened, but I'm not sure of that as the government and/or army (one can hardly tell them apart) has decided to completely block the media.
The media censorship began once the violence started—the local TV news-hour was cut to a mere ten minutes—in hopes that the news being reported would not rile people up even further. Now it's completely stopped. For a while, the only means of knowing what was going on over the past few weeks was the print newspaper, but today they even stopped the printing of the newspapers. The cell-phone services in the more volatile areas are blocked. Text messaging services all across the valley are also blocked—they're afraid that the youth will use mass texting to congregate or that media sources will use text messages to let people know about any more deaths/injuries. Yesterday, they also took away the curfew passes of the journalists, and now even the local journalists are unable to cover the stories or move around. Just two days ago, we heard reports of a dozen photojournalists being beaten and severely injured by the Indian occupying forces as they were covering the funeral of one of the young boys who was killed.
What upsets me the most is the coverage of this situation in the Indian news media, which not so ironically, are the only news channels we're getting here. I thought the coverage of Israel-Palestine in the American news media was upsetting, but this is to another level. Their stories focus almost entirely on the "stone-throwing" of the young boys (not the killings or the human rights abuses), and the suspicious role of Pakistan is sponsoring this "rogue, extremist" behavior. "Expert" after "expert" is brought to give "analysis" of the situation here—and the newscaster always asks "Why are the people so angry? Who's behind this?" I heard a man yesterday claim that the Kashmiris are actually happy that the army is there, as they feel 'safe and secure' with them around. They view this situation from the prism of "terrorism" and then sometimes from the prism of "a law and order situation." They have no idea, or don't want to have an idea, about the aspirations and wishes of the people here. The Indian public is completely delusional about the situation in Kashmir, and their media is prolonging this delusion. I met an Indian family on my flight from New Delhi to Srinagar who were visiting Kashmir for a week. The lady kept on asking me if I ever "saw any terrorists" in Kashmir. I told her that all the only terrorists I saw was the Indian army. She was upset by my comment and asked what I meant—I told her that just a few days ago the army had killed an innocent young boy. All she could say was "well, he must have been a terrorist."  She was shocked to hear that anti-Indian sentiments ran deep in Kashmir and kept on denying it and asking if I was an "agent for Pakistan."
To give you a sense of the situation on a personal level, the volunteers that come through the organization that I help run (KashmirCorps) have been completely unable to do their work since they've arrived. It is frustrating to watch, as they were placed in wonderful local NGO's and were so excited to work on their projects. They are waiting anxiously at their hotel to see what happens with the conditions, unable to move around.  My parents were supposed to come on Sunday from the States, but they have cancelled their trip. My family here, though, is used to the situation. I'm currently staying with my mom's side of the family in Srinagar. My grandparents are elderly and need to get some medicines from the pharmacy, but we have been unable to move outside. My little cousin Zainab, who is seven years old, hasn't gone to school for the past three weeks. She asked her mom yesterday to make a special prayer to God that she would be allowed to start school again soon. My uncle, who is a physician and runs his own private clinic, hasn't gone to work for the past three days. During the days of the hartaal, he would leave early in the morning to evade the protests, but then return around noon as none of the patients were able to come.
But what is most heartbreaking for me is my dad's side of the family, who lives in Sopore, less than an hour away from Srinagar, the capital city where I am. Sopore is considered to be the "Gaza" of Kashmir. A number of the boys who were killed were from Sopore, and since I've arrived, the entire city has been placed on curfew—not just hartaal. There are protests there regularly and encounters between the locals and the army. I have not been able to see my grandmother or my cousins and extended family there since I've arrived. We were supposed to have three weddings in the family this summer; all of them have been cancelled. I am unable to call them, as their cell phone services have been cut. Every few days, my uncle or aunt manages to call me from one of the phones in the area that is working. I can hear the disappointment in their voice—they just keep on saying "If only we could just see your face, that's it." Because of the curfew, their food items are severely restricted—so they're surviving on the little amount they grow in their gardens or trying to make do with their neighbors.  On Sunday, they lifted the curfew for a few hours, and my uncle tried to get to the city to see me. Right around that time, news of the recent killings became known, and the curfew was once again imposed. Because transportation is not allowed, he had to walk nearly 20 kilometers back home. They don't tell me much, they don't want me to worry. But I know that the army there does nightly raids in houses, looking for "suspected militants" or "renegade youth." My cousin there is 14-years old—I worry about him. He's of their "target suspect age."
The situation in downtown Srinagar, just a few kilometers from where I'm sitting is also similar. They have also been under curfew for the past three weeks as that is where most of the protests happen. There is a severe shortage of food—water, milk, meat, bread. I can't even imagine what the situation is like for them. Thank God, these items are available where I live.
The few times we were able to move around, I met with a few leaders of NGOs here that KashmirCorps work with. It is so difficult for them to operate in such conditions as you can imagine. Their plans for the week are completely interrupted and they're unable to move ahead on their programs or get their work done. Their sense of helplessness is overwhelming—in these circumstances they are completely unable to provide relief or aid to the most impoverished populations here.
I've also had a chance to meet a few youth and young professionals. What they're going through is worthy of another separate email. I am impressed and humbled by them, but scared for their futures. One thing I've noticed is that they're all becoming quite active on social media—youtube, facebook, etc—spreading the word through that medium about the situation here. I wish they were given more opportunities to express themselves; there is an abundance of potential here that is being completely ignored or misdirected.
I can't tell what will happen here over the next few weeks. But like the cycle of violence, the cycle of disappointment also exists. There will be no justice for the victims of the recent killings—no inquiry by the Indian government, or any international body, no punishment for the perpetrators. That I am 100% sure of. The government might be able to quell the situation momentarily and make claims about how it is serious about the "peace process" and dialogue with Pakistan. Then, they'll find an excuse to delay it. Meanwhile, the cycle of violence on the ground will continue.
I am going to end this email here. Please, please keep the people here in your thoughts and prayers. And do try to spread the word, even if that means forwarding this email. One of the many reasons the Indian government gets away with what it does in Kashmir is because the issue does not get much international coverage. I have shared a few links of news stories—I will be happy to send more if you're interested.
In peace,
Hafsa
KashmirCorps Blog for this summer—read about how the Volunteers are coping with the situation
Local Kashmiri Newspapers: here and here
Article by a young Kashmiri Journalist in an Indian newspaper
Article by a Kashmiri American in the Huffington Post
LA Times Article: here and here