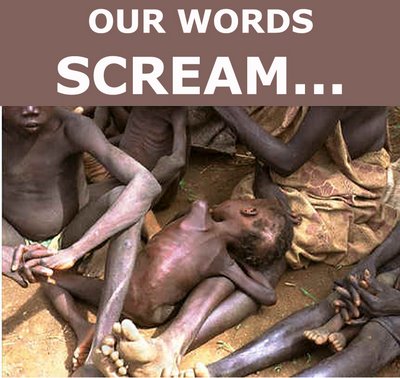 Last week, the International Criminal Court (ICC), issued an arrest warrant for current President of Sudan, Omer Hassan Al-Bashir.  Al-Bashir has been charged with five counts of crimes against humanity: murder, extermination, forcible transfer, torture and rape. He also faces two counts of war crimes.  The ICC may be growing its first tooth.
Behind the warrant were the many groups that have tirelessly worked to bring global attention to the matter.  The 'Save Darfur' campaign has been extremely successful example in rallying public support, beginning in churches and university campuses, to influence the public dialogue and bring pressure upon public officials.  Through organizing local events, but aiming to influence public opinion on a global level, the campaign is a model in their use of new media, internet, and public rallies and theatre to bring attention to the genocide and plight of a people.  While I am in admiration of the campaigns strategies and efforts, it is still worthwhile to ponder on global culpability in allowing such genocides to continue to occur.
As part of these efforts, the campaign has been successful in bringing pressure upon China for its continued support of the genocidal regime and its willingness to condone the Sudanese government's behavior in its bid to keep receiving returns on its billions of dollars investment into the country's oil industry.  Although on some level I understand realpolitik and China's strategy of attempting to find oil supplies in those states that are considered pariahs by the US in order for China to satiate its growing oil needs.  Still I cannot condone such actions and cannot trade human life for oil.
Grassroots efforts and political efforts are starting to show that the pressure upon China for its support of Sudan is beginning to have effect.   Steven Spielberg's boycott of the Beijing Olympics was one example.  Protecting Sudan through its veto ability in the Security Council of the United Nations (UN), it is understandable why world pressure focuses on China.  It is heartening that the pressure may even be beginning to have some effect.
However, left out of the equation is India.
India has long supported its economic interests despite worldwide attention about the ongoing genocide in Darfur.  India's oil flagship ONGC Videsh Limited is operation a producing oil field in Southern Sudan and is seeking to expand its efforts.  It is these oil fields that are part of the reasoning that fuels the ethnic cleansing of Darfur and it is largely oil revenues that are used to purchase the weapons used for the extermination.
One European group commented:
Unless ONGC Videsh wishes to dissociate from universal human values, the company will have to ensure that its operations are supportive of the principles that underlie the Universal Declaration of Human Rights.

ONGC Videsh seems to believe that Sudan's wars are none of its business. In fact, the company is in business because of the war.[link]
However, it is not only oil-interests that lead India to support Sudan's genocidal regime.  The past few years, despite increasing scrutiny over al-Bashir's callous regime, India has successively increased its trade investments in Sudan.  India is now the sixth largest exporter to Sudan.
Even now with charges being brought up against al-Bashir, India has still not ended its defense of the regime.  Earlier, India, as a leader in the NAM movement, filed their protests over the ICC's indictment, hoping to invoke UNSC to suspend the ICC prosecutions for 12 months, but could be renewed indefinitely.  It seems India not only wishes to continue impunity at home, but promote it internationally as well.
Sudan knows who its allies are as diplomats have already left Khartoum seeking India's help.   The Sudanese Embassy even used India's example to justify why it should be exempt from prosecution:
We reject this decision on the basis that it has no jurisdiction over us, as we are not a party to the Rome Statute that established it. We reject its pretension to authority over our sovereignty on the same principle that the United States, India, China and many others who aren't signatories stand on. We reject it because our own judicial institutions are as capable and independent as those of any other well functioning democracies in the world.[link]
Tellingly, India is listed even before China.  Sudan understands that India has manufactured an image of "democracy" and is using India's example to hide its atrocities.
Last year an Indian aid worker in Sudan wrote the following about her experiences:
Trading with a country without any social responsibility, and turning a convenient blind eye to a conflict of gargantuan proportions, does not bode well for the emerging economic and political giants of China and India.

But, while there has recently been a chorus of international disappointment that China is not pulling its economic weight in Sudan, India too cannot be excluded, for its hands are very much in the honey pot.[link]
Recently a spurt of my writings have been in calling for "ending impunity" and challenging for a better India that respects human rights.  Sikhs, Kashmiris, Indians, and human rights activists that care for the future of human rights and beyond should work to begin placing multi-faceted pressure upon the India State to end its support of the Sudanese government.
India is undoubtedly a regional leader in South Asia.  For the same reason that activists press the United States to respect human rights, as it is a global power and leader and its impunity is used as an excuse by all other countries, so is the case of India in South Asia.  India should not be given a free pass under its crafted façade of "democracy", while China is being held accountable.  Pressure must begin mounting on both countries.  Just as the 'Save Darfur' campaign has a special section calling for an end to China's support, we should press them for something similar on India.  Ending and bringing accountability of India's support to the Darfur genocide could be an umbrella bringing various South Asian human rights activists in greater contact with one anotehr and with other global human rights movements.