Posted by Mehmaan (Guest) in
History
,
India
on 08 14th, 2013 |
10 responses
Guest blogged by Shahe Kaur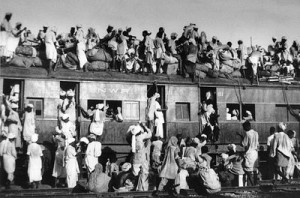 On the eve of India's Independence Day, it is difficult to not think about the haunting stories I have heard from my parents, grandparents, and others who lived through the horrific partition of India into azaad (independent or free) India and Pakistan.  This partition uprooted over 10 million people and resulted in murders and brutality far too numerous to count with official accuracy, with estimates ranging from a few hundred thousand to a few million.  Many of us will likely never truly understand how much our elders are haunted by the memories of forced migration, murder, and the other atrocities that occurred when they had to uproot to the newly independent India.
As a child and throughout the time I spent with my grandmother,  I was very interested in the history of who I was and where our family came from.  However, when it came to topics like partition or the atrocities that occurred in 1984, my family, particularly my grandmother did not want to talk about it.  The memories were far too painful for my grandmother to ever completely tell me her story. " Those days have passed, let them be," was the common response that I got. Of course the vakeel (lawyer) in me, even as a child, could just not let things be.  I had to know more about who we were as a family and the history that is part of the fabric of who I am today.  As I pushed and pushed for more details regarding my grandmother's journey, I began to piece together an image of the atrocities she witnessed and endured to become the woman that I knew.  As she would tell me her story, each time proclaiming she had told me the same story a hundred times before, I probed more and more to gain more of her experience and account of what she had endured.  Eventually she told me all that she cared to speak of, which was enough for me to get a glimpse of how deep her courage, strength, and love for her family truly was.
Thus on this eve of India's Independence, as I think back on the memory of my grandmother, who has now passed,  I wonder what it is exactly that we are celebrating? India has become an independent nation, free from the oppressive rule of the British.  But Indians are still being oppressed.  Women continue to be victims of sex crimes and persecuted by law enforcement, courts of public opinion, and the judicial system while perpetrators roam free.  Sikhs, who were a major driving force in gaining independence, are oppressed and have received no tangible justice for the atrocities of 1984 and the systematic genocide, discrimination, and unjust persecution that continues to date.  Indian law enforcement, employed to serve justice and the people, are renowned for their abuse, soliciting bribes, and other corrupt practices.  Human trafficking is a multi-million dollar business in India, with thousands of young children who fall victim to these crimes every day.  The caste system is still alive and well where lower caste individuals face discrimination, exclusion, and communal violence, despite laws and policies adopted by the government.  These are just a few of the issues that I hope we as a community contemplate on this day of Indian Independence.