Oh India.  You can't hide the skeletons in your closet forever.

It appears that the US Commission on International Religious Freedom was on its way to India this week.  (The USCIRF is a federal group that works to promote freedom of thought, conscience and religion; protect people from abuses like detention, killing and torture; and challenge religious intolerance and repression throughout the world.)  Well, they were scheduled to go, had their tickets ready and their bags packed.  But India's administration decided that they weren't welcome in India.
It's really quite ironic. The Congress party's recent Parliamentary win over the BJP has been seen as an explicit rejection of the religious intolerance that the BJP represents (though it may have had more to do with support for Congress' economic policies).  Yet it is the  Congress party administration that has refused USCIRF entry.  Maybe the Congress party's sound defeat of the BJP has swelled the Congress Party's confidence a little too much.
New Delhi knew that the USCIRF team was scheduled to leave on June 12, but the visas just didn't get stamped in time. Was it just a rare and regrettable oversight? [After all, with so many tourists flooding the country, a few visas could fall through the cracks right? (HA!)]
No, it was quite purposeful.  The team was going to visit Gujurat and Orissa out of concern that judicial processes there weren't functioning properly and in order to "get them going." [TOI] The Commission has highlighted past violence against Muslims in Gujurat and last year's violence against Christians in Orissa. Why didn't the Commission highlight violence against Sikhs? The Commission was only created in 1998, so it didn't exist at the time.
The Indian Embassy in DC, which would generally issue the visas after getting approval from New Delhi, acknowledged that the USCIRF team had applied for visas and that the applications were sent to New Delhi, as is standard practice for such visits.  But New Delhi didn't want the USCIRF's visit.
Sources in the government, without acknowledging that the visas were deliberately withheld, said it was not a proper time for such a visit. "We really don't care about what they report," an official who spoke on background said. "But a high profile visit seen as having government sanctions would have raised hackles in India." [TOI]
If the Indian administration's response to POSSIBLE future criticism is to block access to information, then there is serious cause for concern.  And the administration wasn't the only Indian body to object to USCIRF's visit.  Representatives of the Indian Right in the US called the visit "incomprehensible" and RSS members had been repeatedly inquiring about it. [TOI]
But even as India's refusal to give USCIRF entry causes concern, it should cause less concern today than it would have 10 or 20 years ago, thanks to the use of social networking sites like Twitter.  It's been encouraging to see how much power the public now wields in getting news out to the rest of the world, as we've witnessed with the Iranian response to recent elections.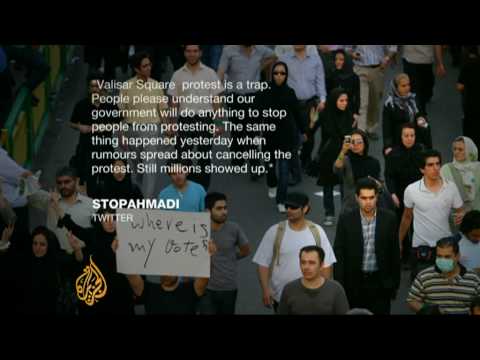 With the speed that social networking tools are increasing connectivity, it doesn't seem like states will be able to hide much at all, as long as someone locally is willing to share the news, whether monitors are let in or not.  Even the State Dept. is using Twitter. Apparently the State Department asked Twitter to hold off on its' scheduled upgrade so the feed from Iranians wouldn't be interrupted. If only we'd had Twitter and camera phones in '84.