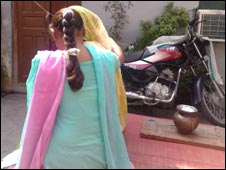 One of our goals on The Langar Hall is to raise awareness about issues affecting our community around the globe. Whether or not we identify or relate to these specific issues may not be as important as much as the acknowledgement that these issues do occur and that individuals and families and even children are affected.  We hope that by raising awareness we can begin, as a community, to stand up against injustice in all its forms.
A recent article from the BBC reports that, according to campaigners in Punjab, British Asians are hiring contract killers to carry out up to 100 murders in India each year.  One of the most well known cases is that of Surjit Athwal, a British Sikh woman who disappeared in Punjab in 1998.  Eventually it was revealed that she had been murdered in a so-called honor killing after her in-laws discovered that she planned to divorce her husband.  They had hired criminals in India to kill her.  She was strangled and her body dumped in a river.  Her brother, Jagdeesh Singh, now campaigns for other victims' families.
"I think Surjit's case exposed for the first time in this country overseas outsourced killings. How the Punjabi community, settled in Britain, send their females back to the land of origin, in the full knowledge that they can have them murdered easily, swiftly and efficiently." [link]
The reporting of the recent growth in such murders in Punjab should horrify us and yet it does not shock us.  The system of law and order in Punjab lacks infrastructure and accountability to say the least. Jassi Khangura, an elected representative for the ruling Congress party in the Punjab legislative assembly, used to be a businessman in London and speaks of the corruption,
"What we have in Punjab – and in many other states of India – is a criminal nexus that takes place between the police, the politicians and the criminals. That nexus gives the Indians that live in the UK a large degree of cover. "Even if they're identified as the perpetrators of the crime, they're given a considerable degree of protection and that means they never get charged." He alleges police corruption in the state is responsible for a trend which he believes claims the lives of up to a 100 overseas Indians a year. [link]
As expected, the Punjab police deny the allegations and state that the numbers are exaggerated.  In turn, families impacted by these crimes are turning to the British authorities for help.  It is also important to note that not all the victims of these killings are women – many men also undergo forced marriages and have been targeted.
While many of these cases are still ongoing – families are learning to heal and move forward.  Pav Athwal, Surjit Athwal's teenage daughter, launched a helpline last year which aims to help victims of forced marriage and honor-based violence.  As she says, "there is no honour in the murder of a loving mother."  As a community it is important to speak up about these injustices – raising awareness is simply the first step.