So Modi and the BJP win again. Kill 2,000 Muslims and become Chief Minister. Hardly new. Kill 3,000 Sikhs and become Minister for Overseas Indian Affairs.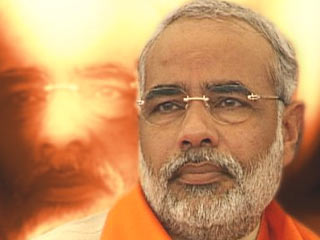 Reasons for Modi's victory will soon flow: his cult of personality, the use of xenophobic propaganda against "jihadis" (Read: Muslims), the reaction against the anti-Modi media, slogans of development success and Gujarat's economic boom in the last few years. While the majority in Gujarat will celebrate their victory, I am left wondering.
Does development trump human rights?
Modi is no longer a Gujarati politician. He is an international Indian star. Nowhere is his popularity as strong as that which he receives from the Patels and NRIs in America. While some assumed the Congress victory in 2004 was a turning point in the electorate, the sheer popularity of Modi's brand of Hindutva has made him a national level politician. That Sonia Gandhi had to directly intervene to challenge Modi and then to fail will catapult Modi's stock. He is Hindutva's celebrity.
The Congress Party's history and rhetoric offers few opportunities for ambitious political elites. In the new India it is Hindutva that represents the greatest possibility for change. Modi is this change. He is India.
Gurharpal Singh in his Ethnic Conflict in India: A Case-Study of Punjab made this same prediction eight years ago. He saw two possibilities of the Hindutva end game,
either towards a continental assertion of Hindutva or its contraction to the core.
Either the Hindutva agenda will reign supreme or the periphery regions (Kashmir, Punjab, Nagaland, Assam, etc.) that are not Hindu and can mobilize on non-Hindu icons and culture will look for another alternative.