We've discussed AIDS in Punjab and its impact on women before. An impressive and inspiring update has since taken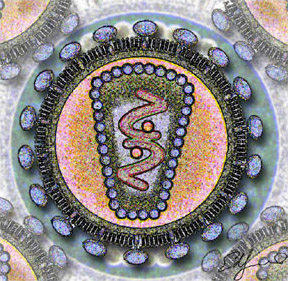 place.
…a small group of HIV positive widows from rural Punjab has taken to a path that may prove to be a major initiative in making people living with HIV/AIDS self-reliant…
12 women in Anandpur Sahib have created a self-help group.
"We look at the formation of this self-help group as a rebirth. Our group wants to be financially self-reliant so that we can tell our relatives that we are no longer at the mercy or doles of relations for travel to a medical centres or to buy emergency drugs", says Avtar Kaur, democratically elected president of the Bhai Ghania Self-Help Group.
The group is being assisted, interestingly, by Ambuja- a cement company responding to the alarming rates of infection of its truckers. The company has teamed up with the International Finance Corporation, a branch of the World Bank, to "proactively prevent and manage HIV/AIDS from affecting the Ambuja communities in eight manufacturing locations of the company across India."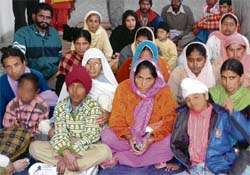 Counseled by a local NGO, Ambuja Foundation, these 12 initial members will save Rs 50 each for three months. Out of the Rs 1,800 thus collected, they will open a bank account with Rs 500 and keep the remaining Rs 1,300 to be loaned to members at a nominal interest of 2 per cent. "Hopefully this amount will grow as more people join the group", says group member Satinder.
The goals of the IFC-Ambuja HIV/AIDS project are to increase knowledge of prevention, transmission and treatment; increase skills in prevention and treatment; increase motivation to prevent and seek treatment; increase service provision; and decrease barriers to preventative methods, discussion, and treatment.
Traditional support groups like family and friends are wonderful for day to day difficulties. But some monumental challenges, like living with HIV in a country rife with misinformation and false notions of the disease, sometimes require stepping outside these traditional support groups and seeking additional help.
The self-help group not only aims at providing financial support to its members, but also acting as an extended family. "After my husband's death, my father-in-law tried to rape me. When I resisted I was thrown out of the house. For many months I was not allowed to meet my children. Only recently, this group of HIV positive people accompanied me to my in-laws and confronted them. Seeing so many people come to my support, my children were allowed to come with me", says Harbans Kaur (name changed) of Heerpur village. The group gives each other moral support besides making others feel cared and wanted in the absence of their own families abandoning them because of prevailing myths about HIV/AIDS. The network includes two married couples, whose marriages were on the rocks after one spouse discovered that the other was not only infected, but had passed on the virus to them. But, with counselling and support, they have decided to face the odds together.
The number of women in this group – 12 – is small. But this first step is the most difficult to make. This is the first self-help group for HIV + widows I've heard of. It's often easy to think that if something isn't already being done, then it must be too difficult, which these women have shown is simply not the case. But the stigma of HIV/AIDS has prevented many people from speaking out publicly about the disease.
In India, as elsewhere, AIDS is often seen as "someone else's problem" – as something that affects people living on the margins of society, whose lifestyles are considered immoral. Even as it moves into the general population, the HIV epidemic is misunderstood and stigmatised among the Indian public. People living with HIV have faced violent attacks; been rejected by families, spouses and communities; been refused medical treatment; and even, in some reported cases, denied the last rites before they die.
These women are courageous for having the strength to create what was previously unavailable, for working towards becoming self-reliant. They truly deserve to be celebrated. I hope their self-help group will be a model or inspiration for many others.
Ambuja may not be the first, and it certainly won't be the last industry to respond to the HIV/AIDS crisis in India. I suspect that many industries who employ large numbers of truckers will be responding in the upcoming years. Their support and involvement in prevention, education, and advocacy is essential.
Are there concerns about methods or conflicts of interest that should be addressed to maximize the benefit of industries' involvement? What, if anything, should be expected from industries responding to large numbers of their employees becoming infected with HIV/AIDS? Or is this simply a win-win situation where any help is better than none at all?