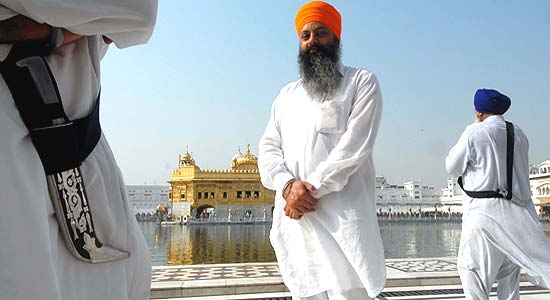 History often remembers transformative figures through the public images they become.  Glimpses and insights into their private lives are rare.  So an interview with Sant Jarnail Singh Bhindranwale's son is a rare treat.
Ishar was just five years old when Jarnail Singh Brar was anointed the 12th jathedar of the Damdami Taksal. He left home and adopted the "Bhindranwale" after the village of Bhindran Kalan where the sect was originally located. "After that we only saw our father at his satsangs," Ishar said. "But we were well looked after." Did he miss his father? "From the family point of view I was sad, but from a Sikh point of view I was very happy." The Jalandhar editor waved a laminated family photograph at me—a very young Ishar Singh with his eyes shut, an oddly self-conscious Sant Bhindranwale, his younger son Inderjit, his wife Pritam Kaur. [Outook India]
Ishar is the oldest of Bhindranwale's two sons, and now a land realtor near Amritsar.  He was 12 yrs. old during Operation Bluestar, studying Gurbani under Mahant Jagir Singh at Akhara village near Jagraon. [OI]
After Operation Bluestar, his mother, Pritam Kaur moved with her young sons to her brother's home in Bilaspur village in Moga district.  Despite his young age at the time, and the different paths his and his father's lives have since taken, his family name attracted the Punjab police's attention.
"I was detained for two days by the police in 1988 and tortured," Ishar says, "but they had to let me go." [OI]
Since then, he's led a comfortable life in Punjab.
He was a good student, and stood first in his Class 10 examination in Sangrur district, winning a scholarship for the final two years of his matriculation. But just then, in 1991, he married Amandeep Kaur, whose father Joginder Singh perished with Bhindranwale in the fighting at the Golden Temple. Ishar never went to university. "My wife completed her BA," he says proudly. He himself became a dairy farmer, and grew two crops, kank (wheat) and jhona (rice) on the family land…  "Many people offered to help us," Ishar said. "We were never in need. My father did everything for the people, and they loved him." [OI]
Ishar Singh does not believe his father ever preached violence. "My father never threatened, he only replied (to threats)," Ishar Singh said in the Jalandhar office. "He was accused of ordering the deaths of 70 Hindus for every dead Sikh. He was misquoted. Bal Thackeray had said India has 70 crore Hindus and two crore Sikhs and there are 35 Hindus to every Sikh. The Tenth Guru (Gobind Singh) had said each Khalsa can fight 1,25,000 enemies.  My father only said each Khalsa can take on 70 enemies, and this was distorted."  [OI]
Ishar said his father never believed in politics, only in dharma. "Politics is based on deception, religion on morals," he said. [OI]
See the full article here.