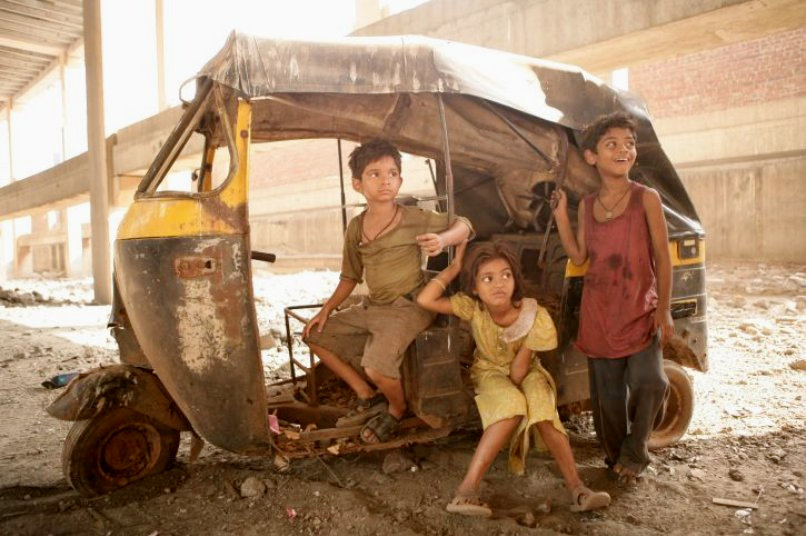 Amidst all the "Slumdog Millionaire" Oscar hysteria, some have been asking how are we ACTUALLY going to combat the issues of poverty in Indian slums?  I heard on "Entertainment Tonight", or some show like that,  the movie's directors/producers have set up a trust-fund for the child-stars (who currently live in slums), are paying for their families to move into decent apartments, and will be paying for the children's education.
But how about the rest of the families who were cheering away in Mumbai slums as "Slumdog Millionaire" won its eight Oscars?  I came across this great blog post by Minal Hajratwala, "Slumdog": Don't Just Watch, Do Something, which took scenes from the movie and talked about how we can address those poverty issues in reality.  I am going to copy a few of those segments here, but please do visit Minal's blog for the full-effect.
movie: Jamal rescues a pre-teen Latika from a brothel where she is forced to dance for older men.
reality: Hundreds of thousands of girls are trafficked into prostitution in India, with Mumbai's red-light district being one of the largest and most brutal in the world.  I give to the Global Fund for Women, an amazing U.S.-based foundation that funds grassroots groups for girls and women around the world, with a special focus on trafficking issues.  The groups they fund work to free girls from prostitution; give them options for physical, emotional, and economic recovery; and prevent girls from being sold or kidnapped into the trade in the first place.  Learn more about trafficking, donate now or shop your values.

movie:  Poor children hustle to make ends meet, work for unscrupulous characters, and don't go to school.
reality: Elimination of child labor is tough organizing work that has to be done child by child, neighborhood by neighborhood, community by community.  Moving children from hustling, begging, and informal labour  into schools also requires empowering their caretakers through programs such as micro-loans supporting small-scale entrepreneurialism by women.  Hand in Hand is an India-based non-profit that works to end child labor in rural Tamil Nadu and "aims at building self-reliance of disadvantaged groups by alleviating poverty through sustained income generating programmes."  Read a BBC article about the work of Hand in Hand or  visit the organization's website.

movie:  Poop scene, women washing clothes in public pool.
reality: Yep, sewage and water are not sexy issues but they are huge.  Informal settlements such as Dharavi, though they are often referred to as slums, are larger than most cities in the world — yet basic services are lacking. Lack of access to clean water and sewage leads to poor health outcomes for children and adults.  The Society for Human and Environmental Development (SHED) works on these important issues in Dharavi; the writing on the website is a bit random and hard to wade through, but here's a much better article on their work.

movie:  People climb on  garbage heaps, picking through refuse and living there.
reality: Yes, this is how some of the poorest Indians eke out a living.  ACORN International's Dharavi Project is working to organize rag pickers and waste collectors (those children climbing the garbage piles in the movie) in Dharavi.  The international wing of ACORN is affiliated with the U.S. ACORN "community organizers" who were subject of a manufactured controversy during the Obama campaign. Both ACORNs do amazing, from-the-ground-up community organizing that aims to empower the disempowered to advocate for their own rights and make needed changes in their own community, rather than take a top-down "charity" approach.
Thoughts?