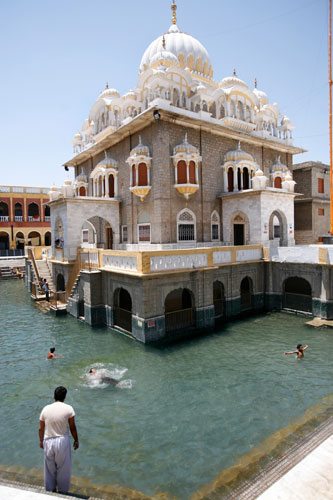 Gurdwara Panja Sahib, located just outside Pakistan's North-West frontier province, has become the temporary home for about 3,000 Sikhs who have been displaced by the presence of the Taliban in the region.  Gurdwara Panja Sahib is one of the most notable Sikh shrines in Pakistan and has been transformed into the ultimate role of a gurdwara.  With help from community donations, the gurdwara has a clinic, a 24-hour kitchen and a temporary school for children.  For the past two months, Sikh families have been living at the gurdwara, afraid to return back to their homes.  Some of the region's refugees have started to return back to their homes in military-protected convoys.  However, many Sikhs feel they may never be able to move home,
Two months ago, long-haired Taliban fighters stormed into Orakzai, a tribal agency near the Afghan border, brandishing AK-47 rifles and bringing a harsh demand: that the area's 40 Sikh families should pay jazia, an ancient tax on non-Muslims living in an Islamic state.  To encourage the payment of 12m rupees (£90,000), they kidnapped and tortured one of Singh's neighbours. The Sikh community banded together to pay half the money, secured his release, then fled.  "The Taliban are still demanding the money," said Singh, a sprig of orange visible under his blue turban. "They recently rang me looking for the rest of the money. We are afraid they will find us, even here." [link]
An estimated 10,000 Sikhs live in the Frontier where they have succeeded as traders, civil servants, doctors and farmers, often providing a "middle-class backbone to poor societies."  The Taliban's presence and the jazia demand highlights the dismantling of years of social harmony that existed between the Pashtun communities and the region's religious minorities.  The problem was greatest in Orakzai, where the Taliban razed the homes of 11 Sikhs after the community fled last May.  However, not all communities were displaced – the sense of brotherhood seemed to flourish above the Taliban ideology.
The Taliban in Buner, which is home to a large Sikh community, did not demand payment, said Dr Soren Singh, a community leader. "They were mostly locals so we knew them personally. In fact they told us to come to them if we had any problems," he said.

Still, many feared they would be pushed out sooner or later. Bansri Lal, a shrine guardian from Mingora, recalled how the Afghan Taliban required non-Muslims to wear yellow clothes. "In Muslim governments they give three choices – leave the city, convert to Islam and fight with us, or pay the tax," he said.  [link]
If the Pakistan government can assure their safety, the Sikhs – who are currently residing in Gurdwara Panja Sahib – plan to return home in the next couple of weeks.  In the meantime, the Guru's home will continue to be their refuge.