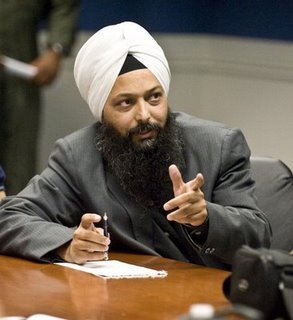 Last week, we saw the birth of a new Sikh folk hero.  I am sure the dhadhi jathas (just as Chuck D called rap music the CNN of black people, dhadhi jatha is the CNN of the Sikhs) are already warming up their sarangi and dhad.
While other commenters have suggested material reasons for the turnabout in the Congress Party's decision, I still contend that we must celebrate the Sikh masses for galvanizing the issue.  The show of force came through Sikhs and their 'rail roko' with the shutting down of the railroad system throughout Punjab.
Although I am well aware of the political advantages that the Akali Dal and BJP sought to gain from the issue of the Delhi Pogroms of 1984, I hope for naysayers, worst of all those within our community, that like to state "the past is the past" and "let bygones be bygones" they realize the past does affect the present and life still does reside within the Sikh masses and polity.
Our so-called "leaders" rarely lead.  Throughout Sikh history, it has been the masses that have had to goad these so-called leaders.  Whether it was the movement to free the Gurdwaras from British-Mahant control during the early part of the 20th century or even the Sarbat Khalsa and subsequent declarations at the Akal Takht in 1986, the Sikh masses have always been the main impetus of the Qaum.  The Guru Granth Sahib is our guide and the Guru Khalsa Panth (and not individual leaders, be they SAD Presidents or Jathedars) is our temporal collective body.
In this post, I merely wish to laud the beginning of a new Sikh hero.  The details of this father of two children are still coming in.  He seems to be a devout Sikh man that has a genuine love for Gurbani.  The love for Shabad manifests itself in the seeking of justice.
While the Indian press reports that Jarnail Singh is avoiding the media highlight, he has not backed down for the righteousness of the cause – the plight of the victims of 1984 and the impunity by which Indian politicians act.  I hope there are more shoes for the Butcher of Gujarat – Narendra Modi.
As I mentioned last week, it was Jarnail Singh Journalist's act of rebellion that sparked a larger movement – a spark of revolutionary behavior.  Hopefully we will soon this play out longer in the quest for justice for the Delhi 1984 Pogroms, for gender inequality, and many of the other issues that call for social justice – both for Sikhs and beyond.
I open this post for comments and thoughts on Jarnail Singh Journalist, the making of a Sikh folk hero/shero, and thoughts or even examples in our community of rebels and revolutionaries.