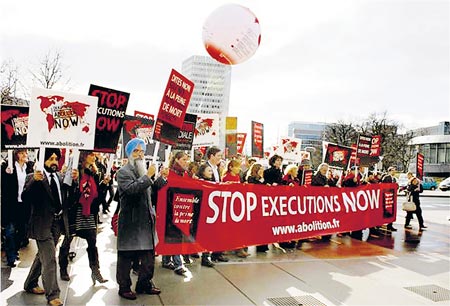 Last month 17 Indian nationals were sentenced to die for killing a Pakistani man.  16 of the 17 men come from a Sikh background.
The case has attracted some attention in the Indian press, but has now found place on the BBC and other sources due to Amnesty International, a premier human rights group, calling attention to the torture of the defendants.
Amnesty says the men were taken to the scene of the killing in the emirate of Sharjah and forced to re-enact it.  It says they were made to beat a police officer posing as the dead man a month after their arrest – an act filmed and presented as genuine evidence.

Citing evidence produced by Indian rights group Lawyers For Human Rights International (LFHRI), Amnesty said that the 17 men were beaten with clubs, given electric shocks, deprived of sleep and forced to stand on one leg for prolonged periods.

"This is a mockery of justice. These 17 men have been tortured, forced to confess and sentenced to death based on a faked video," Amnesty's deputy director for the Middle East and North Africa, Hassiba Hadj Sharaoui said.

"Amnesty International is calling on the UAE authorities to investigate the allegations of torture and abuse and to ensure the 17 men receive a fair trial on appeal," the group said in a statement. [

link

]
Some of the defendants have alleged hateful attempts by the police at disrespecting their religious icons.
RELIGIOUS INTOLERANCE OF THE POLICE : The accused also reported that they were not only physically tortured by the CID wing of the Sharjah police, but were forced to show disrespect to their religious symbol (KHANDA) which were being worn by some of the accused in gold chains in their necks. Then the accused were asked to step on the KHANDA'S to show disrespect to it. The police men played foot ball with the Khanda in order to desecrate the religious symbol. Their article of faith KARHA (IRON BRACELET) was removed by cutting with hack saw and were thrown into a dustbin. The police officials also kept on taunting the accused by saying, Who is your God ? Call him. We would like to meet him. The accused were humiliated to the extreme on the basis of their religion.
The Sikh Channel in the UK has promoted the cause that has been taken on heroically by the Chandigarh-based Lawyers for Human Rights International.  They seem to be a worthy-organization and I would encourage our Langa(r)-eaders to follow the case and contribute to the lawyer group.