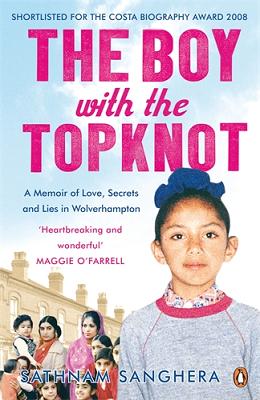 Last year we discussed Satnam Sanghera's memoir, If You Don't Know Me By Now: A Memoir of Love, Secrets and Lies in Wolverhamptom, and dialogued around the issue of mental health in the Punjabi Sikh community.  The memoir was recently awarded the Mind Book of the Year Award for its literary contributions to raising awareness around issues of mental distress.  The Boy with the Topknot, as it is now known, was picked from 110 entries by Mind, a non-profit organization in the UK committed to creating a "better life for everyone with experience of mental distress".
On winning the award last night, Sathnam Sanghera said:"It was such a strong shortlist, and this award is judged by some of the greatest authors in the UK, so this is a real privilege. There are hardly any books about Asian communities' experiences of mental health problems, so I hope people read this book and it leads to more understanding." [link]
I would highly recommend this book as I found the story to be sincere and enlightening.  However, I would add that while it is important to provide this type of insight to the English-speaking literary community, it is just as (or perhaps even more so) important to ensure this type of literature is accessible to the Punjabi-speaking community.  Perhaps we can strive to have these types of memoirs translated into Punjabi or made available via audiorecordings?