Guest blogged by Navdeep Singh Dhillon
My wife's family is Hindu, with varying degrees of connections to the religion. Some of them have statues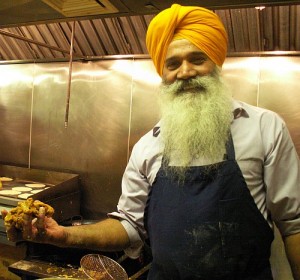 of deities like Krishna and Ganesh scattered throughout the house, others have entire rooms sectioned off for bhajans and pujas, and then there are those, who shall remain nameless, that go on random fasts they can't explain. "It is a potato diet. I will eat potatoes today. Who else wants aloo parantha and aloo pakodas?" is the only explanation given during fasting for the nine days of Navratri. I still don't get it. Nor do I get why some Sikhs don't eat certain foods on Thursdays, or why Jains have such a problem with potatoes because living organisms might be killed, but have no qualms about dousing their bland food with ghee, or eating vast quantities of paneer.
Many of my wife's family live in a concentrated area in Central Jersey a few minutes from each other. In the neighborhood, there is a Hindu temple, which they visited once, and never returned to. No, not because of politics, or religious differences. The reason: they didn't like the food. It is a Gujarati Hindu Temple, and they are very Punjabi. So they go out of their way, driving through the most industrial and uninspiring landscape New Jersey has to offer, to eat Punjabi food at the Gurdwara.
The irony is not that they are Hindu and attending a Sikh Gurdwara when a Hindu temple is a few minutes away. Sikhism has, from its inception, been welcoming to all religions, and many of the verses in the Guru Granth Sahib were written by Muslims and Hindus. The four openings at the Harimandir Sahib invite people from all directions and walks of life. The irony is that through their food, which Gujaratis and Punjabis take very seriously, both communities have been the hardest hit by ailments like heart disease and diabetes, affectionately known as "sugar."
My post is an expansion on Brooklynwala's post "Working for Langar Justice," which talks about making the move for our Langar Halls to go organic, a move I highly encourage.
In my post, I want to expand upon this idea of spirituality, and place the focus on the role the Langar Hall plays in the spiritual experience of a place of worship. This idea is certainly not restricted to the Gurdwara, and easily applies to the Mandir and the Mosque.  The Gurdwara represents a spiritual place, the reading of the profound poetry of the Guru Granth Sahib is beautifully sung, which even the worst speaker system can't nullify.
And then there's the food. Pakodas, samosas, ladoos , jalebiyan, gulabjamans, and massive pots of cha with disturbing quantities of sugar added by sevadars. And that's just for breakfast. The situation isn't much better at Mosques or Mandirs. In defense of these places of worship, there are many that have taken steps to offer healthier versions of these foods, but frying food in "healthier" oils is still frying food. My bhua ji in Tarn Taran makes the most delicious aloo vala parathas. She kneads desi ghee into the flour mixture, fries it in desi ghee, and then plonks a shimmering piece of desi ghee onto the top of the paratha. I would love nothing more than to eat healthier versions of these parathas every few days, but I know that relatively healthy is not the same thing as healthy. And baked paratha just sounds stupid. So, it remains an indulgence. As are samosas, pakodas and the all encompassing "moo mithaa."
But everytime I go to the Gurdwara, I succumb to the lure of khand vali cha, and the plethora of tasty but a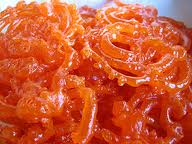 rtery-clogging food laid out right next to the non-biodegradable Styrofoam cups, plates and plasticware. Lunchtime langar is also sometimes made using healthier oils, but the point is, this is still not healthy food. And then there's the crown jewel of it all: Karah Parshad at the Gurdwara, called Halwa (or Prasad) at the Mandir, which is always made using desi ghee. No ifs, ands, or buts. A diabetic has the option of not eating a samosa, or of not eating the ladoos. They could possibly even get away with not langar shakking. But the symbolic gesture of accepting Karah Parshad transcends its physical nature, which makes it a very un-Sikh choice: choose your health, or choose to accept the blessings of the Guru.
On a positive note, however, the Langar served at some of our historic Gurdwaras, such as Baba Budha Sahib in Tarn Taran and Harmandir Sahib in Amritsar, still remains true to the spirit of Langar, and offers a simple daal-phulka with a very basic tadka. And only on special occasions do they also offer things like jalebis and kheer. During my father's days at Khalsa College in the 1960s, he and his classmates, driven by the lure of Parshad, would come to Harmandir Sahib, pay homage, and eat the Parshad while soaking in the spiritual atmosphere. And to this day, he still claims it is the most delicious, a fact I must agree with. But the reason that the Parshad is always incredibly delicious is because it is always incredibly oily and unhealthy.
My Bapuji used to eat a huge amount of ghee every morning, and he lived to ripe old age before passing away peacefully. No heart problems and certainly no diabetes. But he used to bike for miles along bumpy dirt paths in his village. Now Punjabis are eating the same ghee-infused food farmers used to eat, but instead of going to the fields to sweat it out, they get in their cars and go sit in an office for hours on end, taking breaks to waddle over and eat more fried food, washing it all down with sugary cha. And there are a plethora of restaurants all over Punjab (and many parts of India) that pride themselves on their commitment to contributing to unhealthy eating with signs like "We use Pure Desi Ghee" just in case someone was concerned these restaurants were trying to trick them by not using Pure Desi Ghee (oh, teri !).
I'm quite sure our Gurus would encourage making Guru Ka Langar not just healthier (footnote: relatively speaking), but healthy. Our Gurus were all incredibly progressive in their ideas, and in their actions. And yet here we are in 2011 still cooking and eating a rural diet while living largely sedentary city lifestyles.
I have read countless surveys of people speculating on the root cause of the rise of diabetes and heart disease in Punjab, but have yet to see a survey on how the same diet affects the bhaiya who has taken over the manual labor of working the fields from the Punjabi farmer. I wouldn't be surprised to find that the bhaiya is not suffering from diabetes or heart disease the same way (the impact of the pesticides are a topic of a different blog though!). But the same diet, coupled with a lack of exercise, consumed by an office worker in Chandigarh or a computer analyst in Fresno, results in diabetes and heart disease of epidemic proportions. Eating at the Gurdwara, Mandir, or Mosque even twice a month doesn't help.
It is an incredibly complicated and deep-rooted problem to change the entire culture of the way Punjabis eat. Centuries before it was proven that smoking causes cancer, and alcohol is the root cause of many diseases, our Gurus realized this, and you will not find a legitimate Gurdwara which serves or allows either of those things on its premises. Today, foods that can potentially kill a person should fall in the same category.
Returning to Brooklynwala's point, we should certainly start making the move towards organic, fresh ingredients, and the use of environmentally friendly dishes, but we should also make a more fundamental move towards preserving the spiritual sanctity of the food being served at the Langar Hall in the name of our Gurus. Or, at the very least, give a healthy (not "healthier") option for Parshad, so those with diabetes or heart disease can freely take the Guru's blessings.
What do you think? Is this completely unhealthy and in many cases, dangerous food representative of Guru ka Langar? Can we even affect change, or is this just the way it is?