The Sikh Gurus never believed in the exclusivity of their teachings. The Gurus undertook travels to spread their message to peoples of different cultures in their own native languages. The Gurus did not believe in the ideas of any language being 'sacred' or 'special'. [link]
I found the above quote to be quite interesting given a recent conversation I'd had with a close friend of mine.  She felt that the Guru Granth Sahib was not accessible to most Sikhs and this inaccessibility was actually detrimental to those Sikhs who wanted to understand the teachings of the Gurus.  She recently found herself, on several occasions, wanting to refer to the Guru Granth Sahib in order to obtain some enlightenment on things occurring in her life.  There were several obstacles she felt that prevented her from doing so.  First, she doesn't read Gurmukhi (although she is learning) and second, having a sound understanding of Gurmukhi doesn't necessarily translate to comprehension.  While I agree that it is important for each of us to learn Gurmukhi, to help deepen our understanding of Gurbani, I wonder how many Sikhs of our generation are able to truly do so.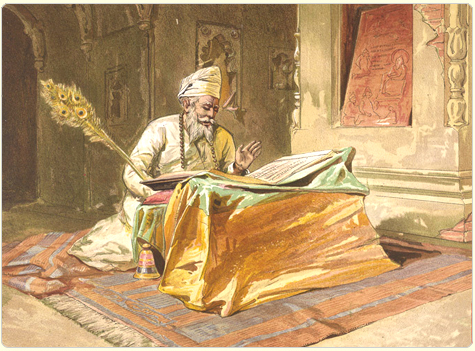 The Christian faith, for example, focuses heavily on bible study and encourages youth to participate in these groups at a young age.  In our Gurdwaras, we place a large emphasis on learning Punjabi – an important element in having the tools to access our scriptures.  However, we hardly pay any attention to teaching youth how to read and understand Gurbani.  The Guru Granth Sahib is the only religious scripture in the world which contains ideas and thoughts of great saints from non-Sikh backgrounds.  Without a doubt, it is unique in all sense of the word.  If the Guru Granth Sahib is the most important source of wisdom for Sikhs – then why can't the majority of Sikhs understand it?
Like many others in history, Nobel laureate, Pearl S. Buck, has praised the Guru Granth Sahib,
I have studied the scriptures of the great religions, but I do not find elsewhere the same power of appeal to the heart and mind as I find here in these volumes. They are compact in spite of their length and are a revelation of the concept of God to the recognition and indeed the insistence upon the practical needs of the human body. There is something strangely modern about these scriptures and this puzzled me until I learned that they are in fact comparatively modern, compiled as late as the 16th century when explorers were beginning to discover the globe upon which we all live is a single entity divided only by arbitrary lines of our making. Perhaps this sense of unity is the source of power I find in these volumes. They speak to a person of any religion or of none. They speak for the human heart and the searching mind. [link]
While such praise should bring a sense of pride to every Sikh's heart, it is also saddens me to know that we do not make more of an effort to understand what was bestowed upon us.  Can we blame each other for not knowing the words of the Guru Granth Sahib if we haven't created avenues for learning in our homes, in our gurdwaras, in our communities?  What can we do to ensure that accessing the teachings in the Guru Granth Sahib becomes easier for younger generations?