In an interesting twist an Indian Bihari family is claiming that the 9-years-old Gurrinder is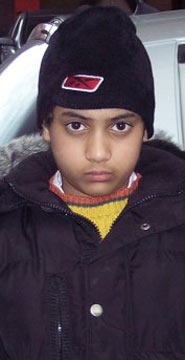 really their kidnapped son 6-years-old Shintu Kumar, who was kidnapped on March 3rd of this year.
The mother has stated:
"We saw his photo too [on TV]… I know my child."
The Bihari police have stated that a DNA test will need to be conducted before proceeding further. The family was able to move immediately as the mother is related to a prominent Bihari legislator. Officials in England have been notified. Our thoughts are with the child and hope that he is being taken care of and that he may be reunited with his proper family soon. More as it become available….
—————————————————————————————
Although there may be more pressing global news, especially as the morning newspapers report about the 4,000th death of an American soldier, along with the soon approaching 90,000 projected Iraqi civilian deaths, in the last six years in Iraq, I start the week with a question that is being asked by the Sikh community in Southall (London, UK). Who is this child?
A number of papers have reported about the discovery of nine year old Gurrinder Singh, a young boy that seemed to have been lost or left at a bus-stop by his gora uncle. The community and the police seem baffled:
"Something like this has never happened here before and I've lived here 48 years," Mr Gill said. The temple is putting up pictures asking if anyone knows Gurrinder.

Rax Subhardan, 32, who works at an electronics store near the health centre, said: "If you lived here you would be shocked too. The Punjabi community is quite close-knit. How can someone just abandon a kid?"
However over and over in the press has been the subject of human trafficking. While by all means the police should explore all possibilities in understanding how Gurrinder ended up where he did, I am at a loss why child trafficking should be assumed? Can any of our readers shed some light on incidences of child trafficking possibly from Punjab to the UK?