Yesterday, the newly inaugurated president said, "… the world has changed and we must change with it."
But just what has changed? In the euphoria of yesterday's ceremonies, some seemed to expect that from now on, the sun would always shine and no one would ever go hungry again.  The inaugural ceremony itself provided ample examples of both what had and hadn't changed.
What ha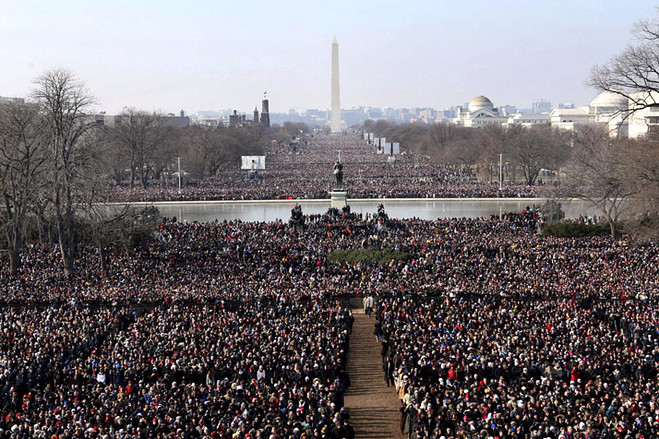 d changed, at least for a few days in DC was that people were exuberant. Strangers became friends. Hugs, high-fives, and tears were shared with neighbors crowding the national mall, cafes, and homes throughout the city. People were generous. An older woman from California gave her flannel shirt to a younger woman who had been waiting beside her in the bitter cold since 6:30 in the morning.
But in some areas where organization was lacking, the chaos vividly showed that when people's expectations were unfulfilled, survival of the fittest remained the governing natural law.  A Congressman reportedly tried to drive through people waiting in line and got stuck in the crowd when they surrounded his vehicle. At least 4 ambulances were seen transporting people injured by the crushing crowd.  These scenes resembled a Delhi train station more than the Washington DC I'm used to.
So, what's changed?
In Richmond Hill, early Sunday morning, another Sikh youth became a victim of a hate crime. Jasmir Singh's hair and beard were pulled, and he was stabbed in the eye. He may lose his eyesight. [link]
Sikh groups have already been engaging with the new administration to highlight issues faced by Sikhs in the US, and perhaps new national security policies crafted over the next four years will be more sophisticated and take greater account of effects on minority groups.
Major changes by the new administration are likely to be limited to domestic matters, since the only major change in foreign policy towards hostile states seems to be a policy of engagement.  Whether this will lead to significant changes on the ground remains to be seen.  Whether you think it will make any difference may depend on your belief in the power of words.  I have to admit, that when President Obama proclaimed to cynics that "…the ground had shifted beneath them," on some level, I felt the ground shift beneath my feet.
Changes might not be as significant as some are hoping or expecting, but at least for me, what's changed is a perception of what's possible, and a greater appreciation for the power of words.