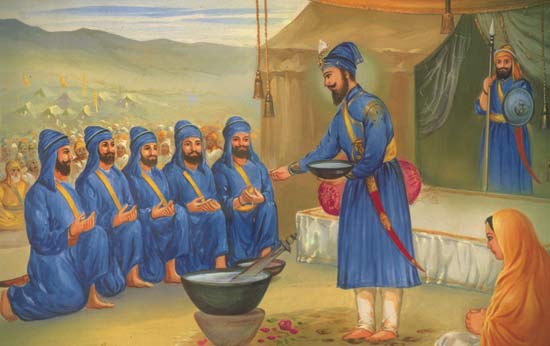 Today many Sikhs in Southern California will celebrate Guru Gobind Singh Ji's Gurpurb.  When I think of Guru Gobind Singh Ji, the first thing that comes to mind is the creation of the Khalsa as an army of the pure.
This past summer I was sitting in a group-discussion, with fellow 2nd generation Sikhs (amritdhari and non-amritdhari) in the West, where we were asked to share  the first thoughts that came to mind when we thought of the term "Khalsa".  Here are some:
masculine, extremists, ego, amrit, air india bombings, khalistan, rules, khandha/militaristic, collective brotherhood, fiercely independent, love, panj pyare, historical of the past & raj karega khalsa
For myself, I thought it was interesting to see how the media (i.e. newspaper articles, calendars, and television) along with the  politicalization of religion and translation of Sikhi between generations is influencing our perceptions of the Khalsa.
What are your thoughts?  What do you think they reflect about the state of the Khalsa?