Shifting focus from the hoopla surrounding this year's Surrey's Vaisakhi Nagar Kirtan, I found just a nice piece highlighting one Sikh Granthi's service. While we often comment on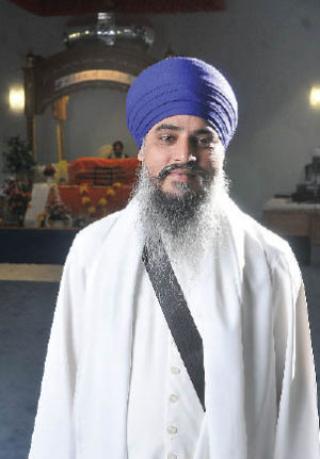 those granthis that are corrupt, perverse, and all kinds of bad adjectives that I could list, I still believe that this is the exception not the rule. Unfortunately, their actions have maligned many. Here is Surrey's Granthi Narinder Singh that is letting his actions at the local hospital speak:
The elderly lady with the long grey hair was furious. The stroke that had confined her to a wheelchair and restricted her ability to move had also left her unable to speak. But her eyes were flashing with indignation and she was clearly greatly offended about something. She kept pointing at her chest.

Singh, who regularly visited the hospital to conduct religious services for Sikh patients, had forged a friendly relationship with the dignified older woman, evolving an improvised sign language to communicate.

She would even let him comb her hair, something she refused to permit the nurses to do. He could see the problem right away. Someone, probably a well-meaning nurse, had buttoned up the lady's sweater for her, but got the buttons in the wrong order. Her garb was crooked and she didn't have enough mobility in her hands to fix it. Singh re-buttoned the sweater properly. She smiled, threw her arms wide and hugged him.
I have often had these conversations with a number of Sikh friends and family. What is the level of our civic engagement in our community?  How does civic engagement amongst Sikh youth compare to others? Are we more involved or less? Are there gender differences? Does engagement peak in high schools in our community? Is bhangra overwhelmingly the extracurricular activity of choice at the collegiate level to the detriment of other forms of political or civic engagement?
I know for me, when I was in college, bhangra participation did take much of my time. I don't think I ever let it overwhelm other political interests that I had, but it definitely consumed much time and energy. Other thoughts from the post-undergrad crowd? What about those that are still in college? How/where do you volunteer?