A few months ago, my fellow langa(w)riter asked, "Who Speaks for Sikh-Americans?" While we are still waiting for the exciting conclusion (or atleast a second part), recent news over the weekend, makes me also ponder this question.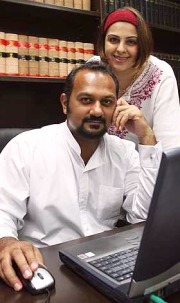 The news came from Pakistan and Malaysia.
In Pakistan, it seems a section of the Sikh community there has demanded
"The Sikhs' problems could be solved if the community is given representation in the government or if a Sikh is appointed an adviser to the prime minister," said Swaran Singh, candidate for the post of president of the Pakistan Sikh Gurdwara Prabandhak Committee.

He suggested that an adviser to the prime minister should be appointed to attract Sikhs from other countries to invest in Pakistan. Christians and Hindus have representations in the government, but Sikhs have yet to reach the national or provincial assemblies, he said. [link]
In Malaysia, the news rang out:
Malaysian ethnic Punjabi Karpal Singh and son Gobind Singh Deo have created history by becoming the first-ever father-son duo to be elected members of a Parliament in the world. [link]
While I must admit my lack of knowledge about Malaysian politics, the fact that a father-and-son duo should win shouldn't necessarily raise eyebrows, but coupled with Punjabi Sikh politics in general, where hereditary fiefdoms, epitomized by Parkash and his heir-apparent Sukhbir Badal (and recently joked about that Parkash's wife should be named Jathedar of the Akal Takht to seal his nepotistic kingdom) are becoming the rule and not the exception, I can't help but at least pay attention to it.
I don't know enough about the constituencies that he represents, but Gobind won the popular vote and I hope that his victory by over 12,000 votes over Lau Yeng Peng seems to indicate that this wasn't some ethnic South Asian constituency where you only run South Asians against one another as you see in England or Canada. If this indeed is the case, and hopefully one of our Sikh readers from Malaysia can shed light on this, then that is definitely a great thing.
Before I return to the case on Pakistan, it is also important to note that Gobind does NOT represent Sikhs, but has been voted there to represent his constituencies, although he definitely takes pride in his Sikh heritage.
Name an idol (dead or alive) whom you look up to and why.

That would be the 10th Sikh Guru Gobind Singh. I idolised him. He was a great warrior who fought fearlessly for his people. He was prepared to sacrifice everything to achieve what he believed in. I always derive a lot of strength from him when I look at his image. (Gobind has a picture of the Guru as his laptop's wallpaper.) My father is probably the only other person I know who has similar qualities to the Guru. [link]
Returning back to the question of 'representation' in Pakistan, I believe that it is definitely a positive sign for the Sikhs in Pakistan to make such a request. With the article stating that the Pakistani Sikh population numbers only 12,000 people, their concentration may not garner electoral success. However their thoughts and concerns should not be ignored because they cannot gain electoral success. But how do you appoint without electoral success? How can the Pakistani Sikh community in this case (but a question for the Sikh community in general) create 'representation' without internal democratic processes (no I DO NOT believe that democracy = majoritarianism, despite the views of some of our commenters). Does Swaran Singh, because he is making this demand, get to gain the 'appointed' position? Should the government decide? In these scenarios, who should speak for the Sikhs? How do you speak for the Sikhs?