Posted by Maple Leaf Sikh in
Events
,
General
on 12 12th, 2008 |
3 responses
For those of you that have never attended a retreat before, its not like the Sikh camps you went to as a kid. Its not Sikhi boot-camp, but a chance for you to explore you own spirituality and really examine how you're incorporating Sikhi into your life.

The Toronto Sikh Retreat has been held in various forms for almost a decade. Never formalized into a full organization, its always been a fluid mix of Sikh students and young professionals coming together to put them on.
What I love about the retreat is that the workshops and activities are all planned by the youth and EVERYTHING is meant to be interactive. Even the divaans are two-way. At no point does anyone lecture to you or claim to know the right answer. The facilitators are merely individuals who have taken the time to do their homework on a particular topic so that they can guide the workshops.
Best of all, the retreats are a blast. They're one of the funnest and most energizing weekends of the year for me. I look forward to them all year.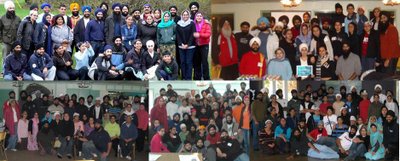 This year retreat promises to be amazing. The organizers have added an extra day to allow for lots of outdoor fun and more opportunities for informal discussion. The first workshop covers the life of Guru Tegh Bahadur and why his sacrifice is as relevant in today's age as it was over three hundred years ago. The other workshop is going to be on we can use our creativity to express our Sikhi and spirituality. Also, this year there's going to be an open mic night where attendees will be able to showcase their hidden "talents".
The location of the retreat is also worth seeing. Nestled next to a great big toboggan hill, the Ecology Retreat Centre has separate buildings for the divaan hall, dining/meeting hall and sleeping quarters. As a creature comfort myself, I can tell you the accommodations and bathrooms are just fine. * So it doesn't matter where you are on the path of Sikh, the retreat is a chance to recharge your spiritual batteries, push your own thinking and make a ton of new friends.
The Toronto Sikh Retreat runs from January 8th to 11th, 2009. It will be held at the Ecology Retreat Centre in Orangeville. For more registration and information visit the TSR website or the TSR blog.