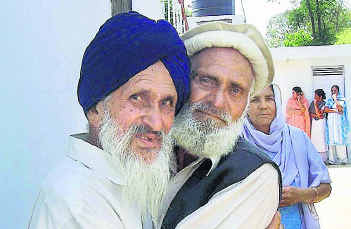 I had been sort of taking a wait-and-see approach to this news (pagh salute: preet) arriving out of England.  It seems some punk kids started a blog to stir religio-ethnic hatred amongst Sikhs and Muslims.  My hesitation was that I did not want to further enflame the story and further create the sort of reaction that the website had hoped.
The blog of Jerome Taylor of the Independent had first written about the website and its intentions:
The website contains pictures of at least 25 Sikh women which the site's administrators claim to have seduced alongside highly provocative remarks about the women and the Sikh religion.

Timed to coincide with the start of the university year – described in the site as a time when "[Muslim] soldiers go hunting for Sikh slappers" – the website's creators encourage friends and readers to send in pictures of Sikh women they have seduced during freshers week.
The most vile part of the website was that it posted pictures of young women (that it claimed came from Sikh backgrounds) and wrote in the most nauseating way that males often talk.  I did see the website and it was disturbing.
Various Sikh organizations began clamoring for the website to be taken down.  One 'spokesman' stated:
"This is not about love, no-one can help who they fall in love with," he said. "This website is all about the deliberate and targeted sexual degradation of Sikh women purely because of their religion. It is about young Muslim men boasting about seducing kaffirs [unbelievers] while keeping their Muslim sisters chaste."
As news of the website spread (as did its number of hits!), various Muslim groups reacted and properly condemned such propaganda.  In no way was this conduct by some punk kids reflective of the wider Muslim community.
Faisal Hanjra, president of FOSIS, the largest body representing Muslim students, replied to an email from the Sikh Community Action Network in Slough.
Thank you very much for your email below which we received with some concern. I looked briefly over the blog and was disgusted by the content of it and I appreciate fully your concerns. As the representative body of Muslim students in Higher and Further education the anti-Sikh sentiment displayed throughout the blog is certainly something we would be very concerned by and something we would look to address as a matter of some urgency.
Dr Shaaz Mahboob, from British Muslims for Secular Democracy has also written saying the website is "very disturbing":
"It must be remembered that, as rightfully pointed out, there is only a tiny minority of Muslims who would hold such extreme intolerant views when it comes to Sikhs or believers of other faiths, however, we do recognise that this seems to be a growing trend amongst Muslims of young impressionable ages, in particular those  attending Universities, away from family guidance and vigiliance perhaps for the first time in their lives. The susceptibility of these youngsters to get swayed by teh rhetoric of those who have mastered the art of manipulating their tender minds leads them to act in such despicable and hateful manner, which clearly also goes against the basic teachings of Islam."
Dr Mahboob then goes on to urge imams and community leaders to use Friday sermons to "pledge their support to rooting out such intolerance and show solidarity with the Sikh community."
Muhammad Shafiq from the Ramadhan Foundation was very angry about the website and wanted to reiterate that those running the website were not in any way acting in accordance with the teachings of Islam.
"It's an absolutely disgusting site," he said. "These people are not representative of Islam and they are not good Muslims. I have no hesitation in condemning their actions."
Within 2 days of the initial blog by the Independent reporter, Google (the host of blogspot.com) has taken down the blog due to its violations of terms of use.
Rather than get caught up in hysteria and rhetoric, it is great to see collaboration and dialogue as a way to calm down such sentiments.  I have heard of the tensions during the 90s with Sikh groups such as Sher-E-Punjab and am aware of some of the history.  However, whenever I get these emails about Muslims 'targeting' Sikh women from England that seem to circulate every few years, I do take it with a grain of salt.
While I highly doubt that such a 'conspiracy' exists beyond some stupid extremist groups like Hizb ut-Tahrir (and sometimes I can't help but wonder if there are other groups that benefit from stirring up problems between Sikh and Muslim youth), I am always wary of the patriarchy exhibited by such emails as well.  Although I believe that Sikhs should rise to defend the women who have had their pictures displayed in such a vile way as well as help those women that have been taken to Pakistan and peddled as prostitutes (I remember reading about Sikh man that went to Pakistan and returned some women to their families, but can't seem to find the link right now), still Sikh men must remember that Sikh women have their own agency and have every right to decide who they want to date or marry.
Also Sikhs should remember that just as we are a not a monolithic community, neither are "Muslims."  As shown in this post, there are plenty of sane people in all communities that wish to preserve peace and harmony.  It is up to us to engage with them and begin those dialogues.