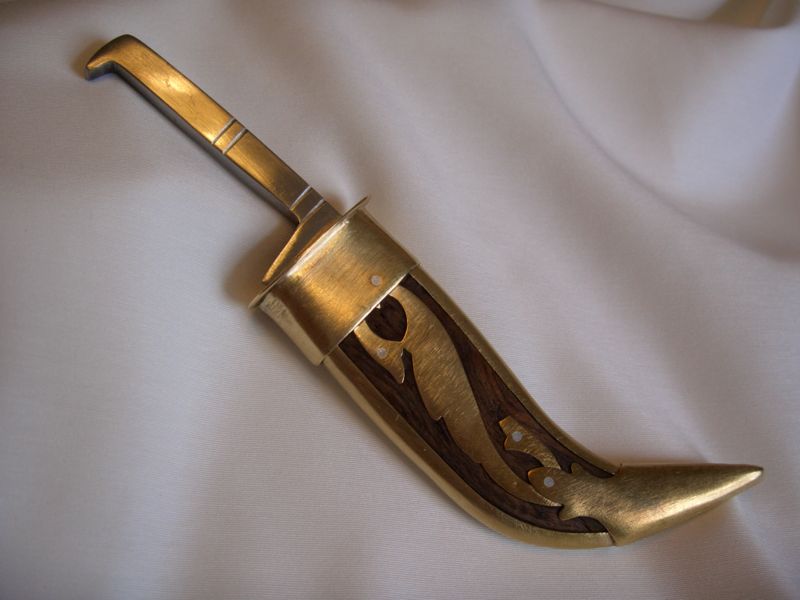 In 2006, Kawaljeet Tagore was fired  for refusing to remove her kirpan. This month, she has filed a lawsuit, along with the Sikh Coalition and Becket Fund, against the IRS.
Kawaljeet Tagore, a Sikh American, sued the Internal Revenue Service (IRS) in Houston federal court on Jan. 6 claiming the IRS discriminated against her by prohibiting her from wearing a kirpan, a mandatory article of faith, on her job as a  revenue agent at the Mickey Leland Federal Building in downtown Houston. [link]
The case is significant for a few reasons, but this is the first time someone has litigated the right to wear the kirpan specifically in a work-context. There have been other incidents (and sometimes cases) in which a Sikh's right to wear the kirpan in an educational setting or in a vehicle or place of public accommodation has been disputed and resolved.

In the coverage on this case, I found two differing ways in which individuals talked about the characteristics, and definition, of the kirpan:
The Kirpan is an article of faith that was revealed to the last Sikh prophet, Guru Gobind Singh, and made mandatory by him for all initiated Sikhs on March 29, 1699… The implication of this explicit requirement is that the Kirpan cannot be worn as a symbol. To neglect to wear one or more of the Five Ks represents a serious lapse in the Sikh religion. [link]
The kirpan commonly resembles a  sword, and is intended as a constant reminder to its bearer of a Sikh's solemn duty to protect the weak and promote justice for all… The edge of Tagore's kirpan is three inches long and is not sharp. [link]
The latter definition REALLY bothers me. I could be wrong, but it seems like the trend in advocacy is to "neuter" the meaning and purpose of the kirpan. It is absolutely an article of faith. It also has the potential to be wielded as a weapon (as do many things).
So how do we balance how we talk about the kirpan to non-Sikhs while retaining its core meaning? I am uncomfortable with the idea of re-casting the kirpan as simply symbolic, but I fear that that's the trend. As a faith, Sikhi generally disdains symbols, and so I can't see what the use of a kirpan is if everyone limits the observed length/sharpness/utility of it when it is meant to be wielded. I'm also opposed to the inconsistent and varying explanations that are given to explain the religious significance of the kirpan across different Sikh advocacy organizations.
In light of this, how would you discuss the kirpan so as not to limit or alter its meaning/purpose? Do you think there are wrong and right ways to discuss its centrality to the practice of Sikhi, or are there talking points which are more/less compelling across sangats?