We're continuing our coverage on Snoop Dogg in Bollywood. And now, we're joined by the New York Times. Some may grimace at the thought of Snoop promoting Sikhs, but he's definitely bringing us a LOT of exposure these days.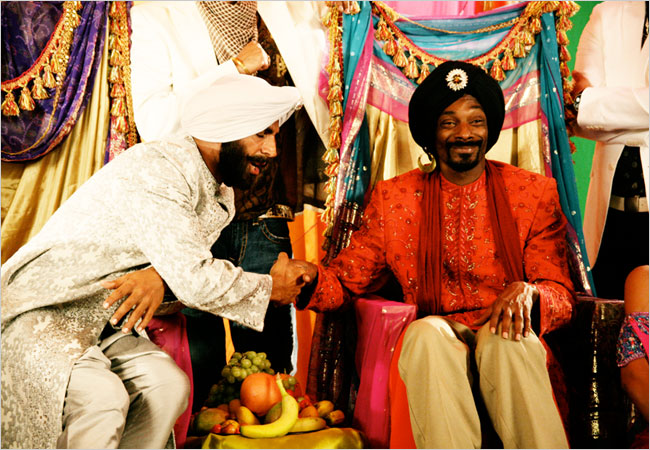 Snoop Dogg wears a Sikh turban and an ornate long coat called a sherwani in a video of the title song, which was shot this year in Chicago… "I really dig how much music is infused with the movies" in Bollywood, Snoop Dogg said in an e-mailed response to questions. "Lots of hip-hop tracks sample Indian music, and a lot of their music sounds like it was influenced by hip-hop," he said. "We're putting together something real big" in India, that will include collaborations, live shows and "more movies with some of my Bollywood homies." [link]
Mewa Singh predicted that Snoop's collaborative song with Bollywood would become the hottest new track with bhangra teams and Punjabis in the diaspora. It's already taking over the airwaves in India, which is sort of a break through since hip hop has only been popular amongst the young, urban crowd there until now.
"I'm coming to take over Bollywood," Snoop Dogg promised during the video shoot. "I've never been able to come over there and do shows for you all, but now I'm going to come and do shows," he said in a clip that the video's promoters put on YouTube. "This is just the beginning." [link]
Ever wondered what Snoop thinks of you?
Snoop Dogg added: "Snoop Dogg's got love for everybody. I like how the Punjabis get down; the way they dress is fresh and they got a real appreciation for music." [link]
Bhangra has been remixed to hip hop beats, and hip hop has been using Eastern instruments and voices for background for some time. But this may just be the beginning of a much greater level of fusion between the two musical genres.