I just wanted to remind all of you out there, particularly those who live in California, that you can still sign up for the annual Jakara Sikh Youth Conference. The conference is in Fresno, California on the Fresno State campus and the dates for this year are June 19-22, 2008. Don't be lazy, register and avoid a late fee.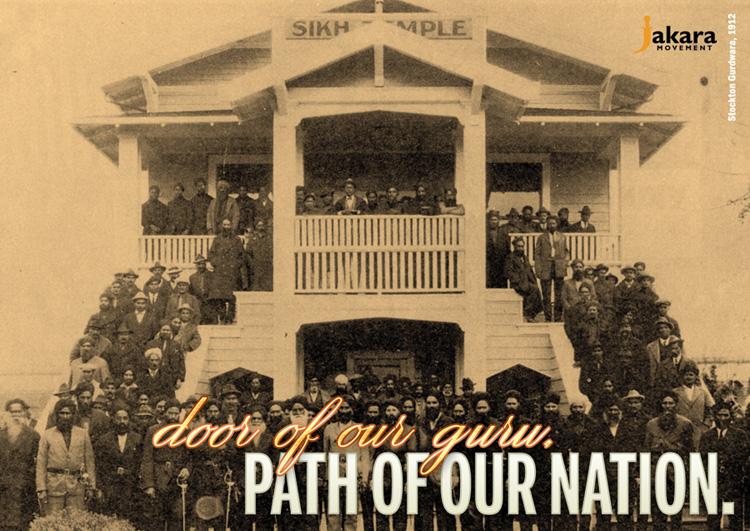 This year's theme is "Growing with Our Gurdwara." The introduction from the website are as follows:
They don't speak our language. They have too much politics.
They are too corrupt.

Too few young Sikhs are found at their local Gurdwaras. While young children play outside after Punjabi School and our parents congregate in the langar hall, too many Sikh youth decide not to go to Gurdwara.

However, this does not mean our spiritual thirst has been quenched. It is time for a change. It is time to stop blaming others. It is time for the next generation of Sikhs to empower ourselves and engage with our Gurdwaras. It is time to turn the "they" and "them" into "we" and "us". The Gurdwara is OUR institution; it will always be the center of Sikh life. It is OUR grassroots democracy if we make it so.

This year at the Jakara Movement Sikh Youth Conference 2008, we will re-create, re-engage, re-emerge with the "door to our Guru". Join us as we re-kindle our center and grow with our Gurdwara. [link]
With full disclosure, I and a few other bloggers here have helped and organized the conference in the past. If you are 18-30 and want to go to one Sikh conference this year, make it Jakara 2008.
For those who are wondering and have never attended a Sikh confernce, Jakara is different than any other desi conference or Sikh conference, for that matter. There is no crazy partying, no calling in the SWAT teams, no drunken fights. Only thing you'll find are good people, good discussions, good learning, and good networking. It is a chance to explore your faith, culture, religion, and relationship with the Guru.
For those that may be weary of a Sikh function (unfortunately in our community this is too common), Jakara workshops are meant to be comfortable, educational, and hopefully even inspirational. Make this the year that you check it out.
Here is the agenda:
Thursday

6–11:30pm Check–In
7pm – Ardas and Langar at Gurdwara Singh Sabha Fresno
9–12am – Ice Breaker – LazerQuest

Friday

8–9am Japji Sahib and Shabad Kirtan
9–10am Breakfast
10–10:30am Welcome/Introductions
10:30–12pm Samajna (Pondering the Problems)
12–1pm Presentations of Skits
1–2pm Lunch
2–2:30pm Sikhna – Seva (Grasping the Guru)
2:30–3:30 Sikhia – Seva (Connecting with our Past)
3:30–4pm Sikhna II – Sangat (Grasping the Guru)
4–5pm Sikhia II – Sangat (Connecting with our Past)
5–5:30pm Conclusion
5:30–6pm Rehraas Sahib
7–9:30pm Picnic & Dinner
10:00–12:00pm Free Time / Movie
12–2am Bowling & Pool

Saturday

9–10am Japji Sahib and Shabad Kirtan
10–10:30am Breakfast
10:30–11:30am Sabak (Making the Connections)
11:30–12:15pm Samjauna (Case Studies)
12:15–1pm Samjauna II (Ideal Gurdwara)
1–2pm Lunch
2–2:30pm Presentation
2:30–3:15pm Open Forum
3:15–4pm Five Ideas for the Future
4–5pm Making it a Reality (Ideas and Jakara Jr. Camps)
5–5:30pm Conclusion
5:30–6pm Rehraas Sahib
7:00pm–12am Formal Banquet

Sunday

9–10am Japji Sahib and Shabad Kirtan
12–4pm Closing Banquet
So again, don't be lazy and make sure you sign up. The costs are subsidized to keep it cheap (so long as you sign up early) and I am so confident that you will actually enjoy the conference that if you hate it you can rip me and my recommendation here completely unedited without me and P.Singh's uncle coming after you!