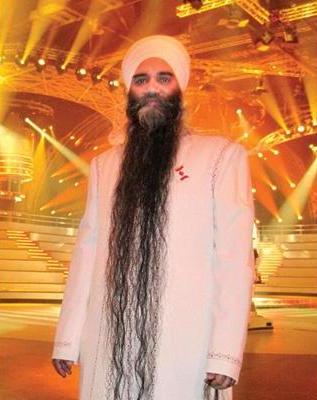 Bhai Sarvan Singh, the head granthi at Guru Nanak Sikh Temple in Vancouver has broken his own Guinness World Record of having the longest beard.  His beard is now under 8 feet!
Initially Bhai Sahib was hesitant to take part in the competition because he did not grow his long beard for publicity.   He grew it as part of his Sikh faith. However, he soon realized that the publicity actually helped encourage other Sikhs to keep this article of faith.
His translator Avtar Singh Gill said to the Vancouver Sun:
"So many other Sikhs have called him, saying, 'You're keeping that long hair and we are cutting our beards; we should not cut them,'" Gill said. "Some of them have promised that. Now he's more comfortable than at the start."
I also imagine this publicity is helping educate non-Sikhs about the Sikh faith.