Other bloggers have discussed their convictions regarding manly men, but Dalip Singh Rana from Himachal Pradesh may have taken this concept to a whole new level.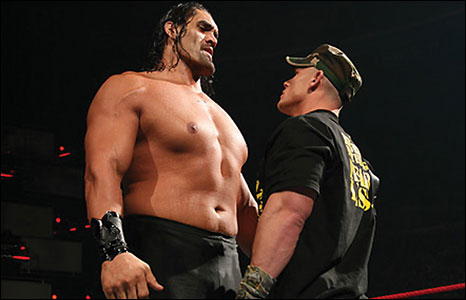 At a mere 7 feet, 3 inches and 420 pounds, Dalip Singh is blazing a new trail into World Wrestling Entertainment.
He is the first Indian to be signed up by WWE, and enjoys top billing in the famous American showbiz circus alongside fighters such as Hulk Hogan and The Rock.
The WWE website says of Rana:
This enormous monster has walked the jungles of India unafraid of pythons and wrestled White Bengal tigers. Legend states that the Punjabi Warrior has "stared into the abyss and the earth trembled at his gaze.
Who is this Punjabi Warrior of the WWE world? According to the BBC:
A giant former labourer from India who has become an international wrestling sensation… When he was not working, women in his village of Dhirana would often call him to do what they call heavy duty work: lifting cattle from one barn to another.
Ladies, if he's your type, I'm sorry but he's already taken.
Rana says he is a vegetarian and abhors alcohol and tobacco. He says he lives a "simple life" with his homemaker wife Harminder Kaur. "I have no fancy villa or cars. I live in a simple home and do not have the money to order a customised car that would fit my size," he says.
Branching out from WWE, Rana is currently shooting a documentary about his life in India, has already had roles in Hollywood films such as The Longest Yard and Get Smart, and is now considering roles in Bollywood. He also spent a year in Japan performing mock fights as "Giant Singh" before debuting as a professional wrestler in the US in 2000.
Mr. Rana is definitely not someone I would want to mess with, but I wonder if he/WWE realize that the way they've spelled "Great Khali" looks more like the Great Empty rather than the goddess of destruction (normally spelled 'Kali').