Posted by Maple Leaf Sikh in
General
on 12 1st, 2008 |
31 responses
There's a profile in today's Toronto Star (and a video online) of the classical Punjabi Sikh family in Canada. Dad came to Canada as young man and goes back to get married.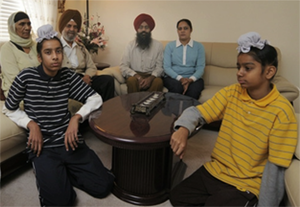 Mom and Dad both have college degrees from India but have limited ability to speak English in a business setting. Living with Dad's parents, the economic pressures quickly put them into the workforce where they are able to land blue collar jobs at a local car parts factory. There they work with other immigrants, mostly Punjabi with whom they feel comfortable. Business is doing well, they're able to get good jobs on the factory floor, buy a good house and provide for their children.
Then the economy falls apart. Auto sales plummet and parts suppliers can't stay afloat. They shut plants and layoff workers. All of a sudden Mom and Dad find themselves out of a job with limited transferable skills.
That's the story of Adarash Pal Singh and Paramjeet Kaur Saini. Both were laid off from Progressive Moulded Products last June and haven't been able to find employment. To re-skill, both are pursuing further education and Paramjeet just got accepted into Second Career program.
Every evening between 5 p.m. and 6:30 p.m. the Saini home is filled with Punjabi music. Adarash Pal's parents watch a Sikh religious ceremony on television faithfully, his mother curled up in the corner of the couch, singing quietly along with the worshippers in India.

"When we were working also we prayed, it's not just for jobs," Paramjeet says. "When you are in difficulty you know nobody going to hold your hand, only God will."

She serves dal and cauliflower for dinner, flattening the roti with a rolling pin, cooking it over the stove.

Paramjeet knows her former co-workers are also struggling. Some have already sold their homes and moved into condos or rented apartments. "Before we sell, we see for a while if we find good jobs," she says.

She also knows people talk about moving back home to India. It is not something the Sainis have considered, though at some point all options may be on the table.

"Right now, we have hope, like if I get my case approved maybe I upgrade, take some training," she says.

That will not be the end of her worries. "Then maybe afterward I have stress for the job again because wherever you go they ask for experience."

The Saints have to continue paying their mortgage, bills and property taxes, so cutbacks must come from elsewhere. No more day trips, no more takeout and no shopping for anything but necessities. The boys have played soccer every summer since they were young, but they may not get to his year. It will be a modest Christmas, and 11-year-old Gurjit will not be getting a new Xbox to replace his broken console for his upcoming birthday. Gurjit is now playing video games on the computer.

"Now I say, don't break the computer now," Paramjeet says, laughing. (Link)
When you hear about the hundreds of people let go from their jobs, the sheer numbers become overwhelming and desensitizing. I guess it takes the profile of a family, very much like your own, to bring the reality home. Canada is in a recession and Sikh-Canadians, along with the rest of the country, are going to economically suffer.