A few days ago, Kenneth Cole unveiled one of his new ads on a wall of Rockefeller Center in New York City. The model is, surprisingly, a sardar.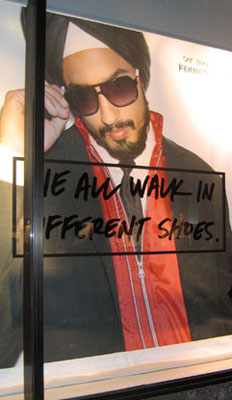 Most Sikhs will be (and should be) proud to see a sardar breaking into an industry that traditionally has narrow ideas of beauty, desirability, or glamour… most of which don't encompass the features -facial hair and turbans – that identify many Sikh men.
This ad is a breakthrough. Perhaps that's what motivated the designer.
I've heard Kenneth Cole is socially conscious and apparently he uses his brand as a platform for campaigns on AIDS awareness, human rights, and alleviating urban poverty. (Even if the effectiveness of such a strategy is questionable, the motivation and effort should be appreciated.)
Maybe the ad is a reaction to national conversation that divides 'us' against 'them'/the 'other' (reiterated in Monday's State of the Union Address). Maybe it's a visual trying to show that 'us' and 'them' are not so easily definable or distinguishable, breaking stereotypes of who 'us' and 'them' are. In that case, it'll be an opportunity for many people to learn who Sikhs are and maybe break some stereotypes in the process. But in trying to break some stereotypes, is Kenneth Cole reinforcing others (the exoticism of the 'other')?
Something else makes me uncomfortable about this ad. Is something that's supposed to be a symbol of high ideals, if not sacred itself (a sardar's appearance), being commodified? If it is, is it inevitable that everything will one day be commodified?
I don't think a Sikh male model goes this far, and every individual should be free to pursue whatever occupation they desire- but this ad raises a question- would it be ok for something sacred to be bought and sold? (Again, I don't think this ad has gone this far- this particular ad is a breakthrough because it's a first of its kind- but it sparked the question.)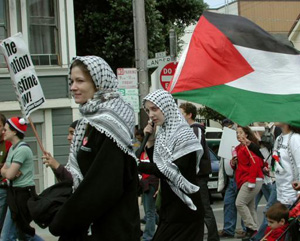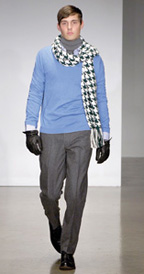 Banana Republic's winter line this year had houndstooth scarves, coats and hats that bore an eerie resemblance to the kuffiyeh, the Palestinian support scarf. It was close enough that a Palestinian friend asked a stranger wearing the scarf whether she was Palestinian (even though she wasn't wearing it in the traditional style). When the scarf wearer said no, the Palestinian girl was confused, taken aback, and slightly insulted that the kuffiyeh was meaningless to this girl. But, maybe it's not intrinsically a bad thing for a symbol to be diluted- it might just be inevitable, and neither great nor horrible.
Now, I have no delusions that people are going to start wearing turbans for style. And I don't think that Sikhs being conspicuous in industries like modeling or Hollywood dilutes the symbolism of the turban as directly as the kuffiyeh has been diluted, if it does at all. But in entertainment (I include modeling in this), it might still be worth questioning just what is being bought and sold.
[Picture courtesy: SikhSwim ]