Jagmohan Malhi has become New Zealand's first officer to wear the custom police turban. Following in the footsteps of the British constabalry (who also have specially tailored turbans), and the MTA, New Zealand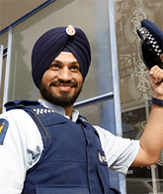 adopted the new attire after Malhi's campaign to include the turban in the uniform.
Interestingly, Malhi discusses the many challenges and accommodations he's made since coming to the New Zealand, including cutting his kes and dari when he first arrived. I found this move towards practice really interesting; Malhi mentioned that he wanted to make this possible out of respect for his dying father's wishes.
Is this the "right" rationale for this move? On one hand, I think it's admirable and important for there to be the option and existence of visible Sikh officers in New Zealand's police force. On the other hand, how do we make this possible, and how do people come to this place?