It used to be the case that women who came to the US as dependents on their husbands' immigration status were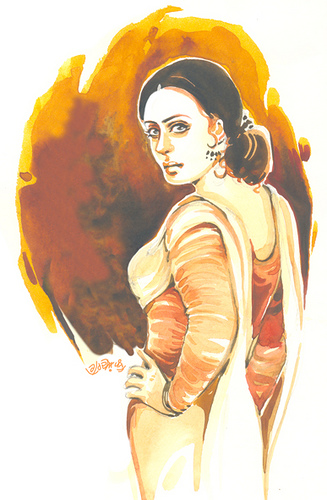 sometimes caught between a rock and a hard place. In cases where one spouse was abusive, the other spouse wouldn't leave the relationship for fear of losing their immigration status and being sent back to their original country.  If they returned to their original country empty handed and without their spouses, they would be perceived as failures.  And so, many women have just endured extremely abusive relationships.
One option that has been available if the abuser is a permanent resident or a US citizen is a self-petition under the Violence Against Women Act. But this wasn't available if the abuser was in the US on a temporary visa, as many immigrants initially are, or to women outside the US.
Thus, a recent development in asylum law has the potential to open a door to safety for at least some women who are most seriously abused in domestic violence. To qualify for asylum (or refugee status), one must have been a victim of  persecution, or have a well founded fear of persecution based on their race, nationality, religion, political opinion, or "membership in a particular social group."  Before this summer, women who were victims of horrendous domestic violence were not recognized as a particular social group, though the issue has been argued for 14 years in a battle to allow battered women to seek asylum in the US. [link]
The government's prior position under the Bush administration was illustrated in the case of R-A-, a woman who suffered horrific violence at the hands of her husband, a former soldier of the Guatemalan army.  She was kicked, whipped, and beaten unconscious, nearly had an eye pushed out, was repeatedly raped, sodomized, threatened with machetes and guns, dragged by her hair, and had windows and mirrors broken on her head. [source 1, 2]. The Guatemalan police refused to help each time she went to them, deciding that hers was a domestic matter. RA fled Guatemala and her husband, seeking asylum in the US.
RA was repeatedly granted then denied asylum before her case was finally stayed (put on hold) while the Department of Homeland Security attempted to articulate rules to govern cases like hers.
The immigration judge who heard Alvarado's testimony found her story of abuse credible and granted her asylum. The Immigration and Naturalization Service (now known as Citizenship and Immigration Services) appealed the decision, In the Matter of R.A., to the Board of Immigration Appeals. The Board–though finding Alvarado's testimony regarding her history of abuse credible — reversed the judge's grant of asylum on the ground that she was not eligible for asylum. Rather than proceeding to the U.S. Court of Appeals for the Ninth Circuit for judicial review, the Immigration and Naturalization Service re-examined the case and disagreed with the Board. In a 2000 response to this INS action, the Department of Justice published a proposed rule that set forth domestic violence survivors' eligibility for asylum. One year later, Attorney General Janet Reno vacated the Board's decision, instructing it to reconsider the case after the new rule was promulgated. But the rule never was finalized. In 2003, Attorney General John Ashcroft certified Matter of R.A. to himself and ordered supplemental briefing on Alvarado's eligibility. Two years later, the litigation remained in administrative limbo, as Ashcroft remanded Alvarado's case to the Board, again ordering decision upon publication of a final rule. [IntLawGrrls]
The rules have yet to be articulated but the stay was recently lifted and the Department articulated a new policy.
In a recent brief for a similar case, DHS stated that it is possible that domestic violence could be a basis for asylum…
[I]t is possible that … applicants who have experienced domestic violence could qualify for asylum … based on alternative particular social group foundations. [IntLawGrrls]
The Department hasn't yet articulated just what the guidelines will be for whether a specific case of domestic violence creates a basis for asylum. The guidelines will likely be narrow, and only apply to extreme cases. But this is still progress.
Some readers are probably thinking, "what does this have to do with Sikh women in particular?" Domestic violence (sometimes in fatal form) exists in our community, even amongst educated, well-to-do, "modern" members.  Many women do not know what their options are.  Though we need to continue our long-term work to address the causes of domestic violence in our community, we also need immediate solutions for women in danger.  Asylum is now one option.