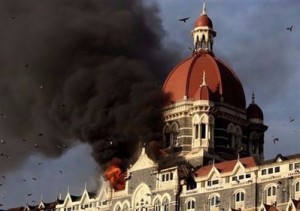 The terrorist attacks in Mumbai — which consisted of blasts in at least seven sites and which apparently targeted Westerners — have, as of this writing, claimed over 110 lives and injured a minimum of 300.  Terrorism on this scale has the tendency to engender very common, basic reactions: fear of another attack, concern for those who are at or near the location(s) of the attacks, care for friends or family who may have loved ones affected, disbelief that one set of humans can do this to other humans, and an interest in why the terrorists did what they did.  All these elements were present in the wake of 9/11 and the 7/7 bombings, and I believe have been resurrected again with the Mumbai attacks.
There is another aspect of a response to mass terrorism that I'd like to discuss in this post: the inclination to unfavorably treat those who share characteristics with or bear resemblance to the terrorists.  Following 9/11 and 7/7, Muslims and those perceived to be Muslim were subject to a pervasive and violent backlash.  (As we reported earlier this week, Sikhs in America have been profiled in the airport setting.)  Accordingly, with news accounts suggesting that the Mumbai terrorists are Muslim, some are worried that Muslims in India may face a wave of public and/or private harassment and discrimination.  For example, a colleague who heads a major civil rights organization in America expressed that he was "praying for victims of [the] Mumbai attack[s] and for Muslims in India."
It should not have to be this way.

In the aftermath of the 7/7 bombings in London, Indian Prime Minister Manmohan Singh, a Sikh, declared:
I do believe that terrorism has no religion, terrorists have no religion and that they are a friend of no religion. No religion in the world preaches atrocities against innocent men, women and children[.] [Link]
He said, similarly, after a terrorist plot in England was foiled, that:
A terrorist is a terrorist and has no religion or community. [Link]
In order to assuage the possibility that Muslims in India will be subject to a backlash, such comments should be repeated by the Indian leadership and others on the world stage.  These statements may not, alone, prevent a backlash, but they may help reorient the people's emotions to more productive and constructive efforts; and they will indicate that, if the people direct their anger towards Muslims, they are doing so on their own accord, not with the government's command or approval. (The Indian has, in its past, been rightfully criticized for coordinating and condoning violence against religious minorities — this tradition should end here with the Mumbai blasts.)
More fundamentally, Dr Singh's comments reflect a view of terrorism that all of us should embrace, namely that terrorists should not be considered members of any religious group or of any human particular community, but should be identified solely as terrorists, even if the terrorists themselves invoke religion or regional policy as a justification for their acts.  In committing the acts, the terrorists have severed their legitimate relationship with religion and with any recognized sovereign.
Accordingly, terrorists are terrorists — they are not "Muslim extremists" or "Islamic fundamentalists."  The media, however, has consistently portrayed members of al-Qaeda and other terrorists as "Muslims."  Indeed, yesterday's front page of The Washington Post noted that the terrorists may be "Muslim extremists."
While such terminology may be useful for identification purposes, it has the very dangerous effect of conflating "Muslims" with "extremism."  Accordingly, these terms permit the ordinary public to draw a connection between Muslims and terrorism, and thereby endanger all Muslims by making them a proper target for rage, anger, and suspicion.
A solution would be to identify terrorists as terrorists — this would not only deny them the religious or nationalistic cover and legitimacy they believe they have, but would also shield millions of innocent members of the Muslim faith from violence, discrimination, and harassment.
A reporter, for example, should say that the "terrorists have invoked an interpretation of Islam to justify their actions" or that the "terrorists are reacting to Indian policy that they consider to be harmful to Muslims."  Such descriptions are accurate, but do not run the attendant risk of suggesting that the universe of terrorists extends to all Muslims.  The mere separation of words in a sentence — from "Muslim extremists" to "terrorists invoking an interpretation of Muslim" — renders it less likely that the public will tie terrorism with all Muslims.
My thoughts, too, are with Muslims in India.  My hope, more generally, is that we collectively recognize that terrorists are terrorists, undeserving of the very religious or national identity that undergirds their conduct.