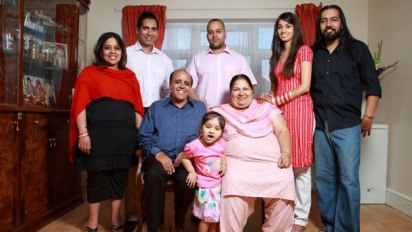 Guess what a British Asian family is hitting the reality TV scene … "Meet The Grewals"  will begin filming 24/7 on November 4th in the UK.  The three-generation family will be filmed for over eight weeks.  Their lives will be aired as part of the iconic series, The Family, on Channel 4.
Director David Clews says: "I think the film captures both the big issues and the intimate moments of family life and I hope everyone will enjoy spending time with the Grewals in the same way I have."
From the rebellious daughter-in-law to the comedic father-in-law , this show seems like it can be very stereotypical, but funny at the very least.  I could also be completely wrong since I am not British nor watch Channel 4 regularly (UK readers please chime in).  Maybe "reality" TV is more of a documentary in the UK than the US  (I can't make the judgement for myself because  C4 can only be viewed in the UK and Republic of Ireland-even online …).
Hitting the big screen as a minority is always a complicated endeavour.  I remember laughing OUT LOUD when watching "Goodness Gracious Me", while my Masiji in England didn't find it so funny.  She thought we were making fools out of ourselves while giving non-Asians more material to laugh at us and not so much with us.
Similar comments where made by  black women on Oprah's show about Chris Rock's movie "Good Hair".  One woman felt that the details of how black women get their hair done doesn't need to be aired because it gives non-blacks more material to hate with.   Chris Rock's response was that blacks need to stop worrying about what white people think and just be content in being ourselves.
My American self predicts that "Meet The Grewals" will be a  hyper version of a big & loud Punjabi Sikh family because nothing about reality TV is real aside from the people in it.  I could also be completely wrong and this show will actually capture more of the nuances.  Nonetheless, I think it will make for a good laugh and reflect some of the real diversity in the West that needs to be represented on national television shows.